News
Details

Category: General News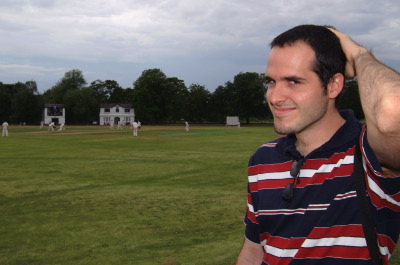 Joomla! Lead Developer Johan Janssens has been in a coding pressure-cooker for almost a year now. With a free day on offer before Sunday's UK Joomla! Day, we took him away from all the code to enjoy the Yorkshire countryside, some pub grub ... and the gentle game of cricket.
Yorkshire is synonymous with cricket — think Geoffrey Boycott; earnest, stoic, stubborn and occasionally downright cantankerous. In fact, Johan spent his first night at an old coal mining village, near where Mr Boycott was born.
We hooked up with Chris Adams, of Rochen, in Leeds, and travelled due west by train to World Heritage Site, Saltaire. After some good food at a real Yorkshire pub, we ventured down to Saltaire's cricket ground. In keeping with our olde-worlde theme, we used the oldest means of transport available to reach the cricket pitch, the Shipley Glen Tramway.
Details

Category: General News

PacktPub.com this week launched its inaugural Content Management System Award with a prize of US $5000 to the winning project, second prize $3000 and third prize $2000.
The award demonstrates Packt's commitment to the open source community and its users. Packt has a long and successful history of publishing user-friendly technical books for software users. They were one of the first, if not the first, publishers to create an English version Joomla! web tutorial and guide.
The award process involves Packt taking nominations from users and the top five "most nominated" or voted CMS' will be then considered by three independent experts. You can nominate Joomla! here.
Packt's timeline for the award sees nominations close on 01 Sept, the final five announced on 04 Sept, the judges voting work starts on 12 Sept and ends 7 Nov. The judges decisions and the announcement of the top three is scheduled for 14 November.
So for Joomla pros, users and fans, we need you to click here, type over there and then cross our fingers and wait. We may be only a click of your mouse button away from a successful nomination.
Details

Category: Team News

Joomla! core team member Andrew Eddie has resigned from the project.  Andrew, who has been project leader and a long-time contributor, recently announced his intentions to the team.
Project lead developer Johan Janssens said he wanted to recognise Andrew for his leadership, mentoring and commitment to the project during its Mambo and Joomla! days.
Andrew Eddie, who had been working as Joomla! project director, came to the project in its Mambo state in 2003 and replaced its lead developer Robert Castley in October 2004.  Andrew, who lives in a regional town in Queensland, Australia, was the driving force behind the award-winning 4.5.0+ releases.
"There is no doubt that Andrew has steered this open source project through periods of amazing growth and success — and we are better for his contributions", Johan said.  "The good news I can give is that Andrew has agreed to continue to contribute to the project within a working group. We are very pleased he will still be around the project but in a less demanding and more creative role."
With the announcement of Andrew's resignation the core team has been taking the opportunity to make some organisational changes.  The core team has entrusted Johan, Shayne Bartlett and David Gal to be responsible for delivering this process.
"We will be making some more announcements about the way forward for Joomla!", Johan said.  "Given the forthcoming release of Joomla! 1.5 beta, there is much to do."
Subcategories
The latest news from the Joomla Team
Announcements & News related to Official Joomla! project Releases
Information about Joomla! Team members