News
Details

Category: General News
Do you want to look sensational? Joomla! today announces the launch of two newproducts with the Joomla! embroidered logo in its official merchandise range.
You can now proudly show your Joomla! colours with an official Joomla! Cap, ourJoomla! Laptop Bag, or both! We hope these new products will provideJoomla! fans with a strong visual statement to demonstrate their support. Allprofits from our online shop go back into the project to further itsnot-for-profit aims and ambitions. Look cool and support Joomla! at thesame time.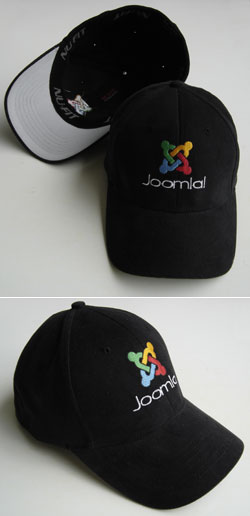 Joomla!Fitted Cap
The ultra-light brushed cotton of this low profile cap looks sensational withthe Joomla! embroidered logo. You'll enjoy the comfort of 96% cotton and justenough spandex to provide pleasant flexibility for long-term wear. The NU-FITband provides a fitted cap look and is designed to absorb moisture whilemaintaining its shape. You won't believe how comfortable this cap is to wear andyou'll look great from the first moment you put it on.
Price: $19.95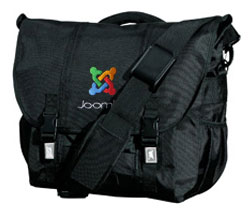 Joomla!Laptop Messenger Bag
If you rely on your laptop, you need a reliable laptop bag. Our Joomla! LaptopMessenger Bag is built for the long haul. With 1680-denier, advanced ballisticnylon and super-tough polyurethane coating on one side for water resistance. Thepadded computer compartment will hold up to a 15" lap top and is designed tokeep it safe, but this versatile travel companion can hold a whole lot more. Twosets of interior organizer pockets help keep everything you need at yourfingertips. Measuring 16.25" w x 12" h x 5.75" d, this solid unit features adurable, PVC bottom; an adjustable, padded shoulder strap with a guided releasebutton; a padded handle; superior stitching; and reflective accents. Carry theJoomla! embroidered logo proudly on this Laptop Messenger Bag.
Price: $49.95
Details

Category: General News
After the exciting release of the Joomla! 1.5 Release Candidate at the Joomla!Day in Austin Texas, the team will further promote the new system at two more conferences and exhibitions in August 2007.
Thailand Open Source Festival
During the 7th
Thailand Open Source Software Festival
, to be held on August 2-3, 2007 at Bangkok Convention Center, 5th floor Central Plaza Lardpraow
Chatuchak, Alex Kempkens will speak about Joomla! and the reason why a CMS is essential for Web 2.0. The conference which is supported by an exhibition presents several Open Source solutions and projects. The focus of the talks will be how Open Source solutions can be used within the company/office environment. More information can be found in our forum.

LinuxWorld San Francisco
The Linux World Expo in San Francisco has a very good reputation for the Joomla! project and Open Source in general. Meet Joomla! core team members Louis Landry, Rob Schley and Johan Janssens from August 6-9, 2007 at the Moscone Center San Francisco, CA. We are very proud that Joomla! project manager Johan Janssens will speak at the conference. Johan will introduce the audience to Joomla! with his session about: "Understanding the Joomla Framework - Tips and Tricks From the Frontline". The session will cover several aspects of the new Joomla! Framework and will give an overview of the different packages as well as explaining its usage with examples.
Finally we will demonstrate how you can easily create completely new web applications based on the Framework in just a few lines of code.
Does this sound exciting? A must see session we would say! Important for everybody wanting to meet the Joomla! team at the event. If you sign up before the event (until the 5th of August) registration is FREE (0,- US-$). Check out the conference details at the linuxworldexpo.com site. Visitors to the exhibition will have the opportunity to meet Louis, Rob and some other special guests as well as other community members. Check out the
forum
and show hands if you will be around to talk about the latest news about the Joomla! project, your websites and everything else you like to talk about.
Over past years Joomla! has won some prestigious awards at the SF LinuxWorld. With the release of Joomla! 1.5 we believe this takes the project to a whole new level. The new framework is fast becoming recognised as 'the next big thing' in open source technologies. 1.5 is attracting some amazing new talent — with third-party developers and architects wanting to achieve more than ever before with the Joomla! 1.0 series. "These are most definitely
THE
most exciting times of the Joomla! project," Johan said. "We've put in thousands of hours of development time creating this 'next generation framework' and we feel its potential is only limited by people's imaginations. Joomla! is now much more than a CMS."
.
San Francisco in Detail:
Our Booth
- DOT.org Pavillion at Booth 11
- The booth will be manned by core team members Louis Landry, Rob Schley and Johan Janssens, together with members of the local Joomla! usergroups.
Other Activities
Tuesday, 7 August:
Community Meetup @ Thirsty Bear
Meet at booth at 17:00; walk to venue at 17:30
Wednesday, 8 August:
Johan's Janssens Talk
10:15 - 11:15 - Understanding the Joomla! Framework - Tips and Tricks From the Frontline (Session Q4)
Thursday, 9 August
James Vasile (of OSM and the Software Freedom Law Center) talk
10:15 - 11:15 - Inside the GPLv3
REGISTRATION FOR FREE
Exhibit registration : http://www.linuxworldexpo.com/live/12/TB296182//SN298548 (free)
Website : http://www.linuxworldexpo.com/live/12/
EXHIBITION HOURS
Tuesday August 7, 2007 10:00 AM 5:00 PM
Wednesday August 8, 2007 10:00 AM 5:00 PM
Thursday August 9, 2007 10:00 AM 4:00 PM
* Please note the LinuxWorld has no public exhibition on August 6.


ON-SITE REGISTRATION HOURS
Registration is located in the upper north lobby of the Moscone Center
LOCATION
The Moscone Center
747 Howard Street
San Francisco, CA 94103
Phone: 415-974-4000
http://www.moscone.com/
Details

Category: Project Release News
Joomla! 1.0.13 [ Sunglow ] is now available for download.
Joomla! 1.0.13 features:
Several low-risk security fixes
Improved password storage system
Easier control over Register Globals Emulation
An Itemid backwards compatibility setting
Improved administrative session security
Improved HTTP/HTTPS switchover support
Because Joomla! 1.0.13 is a security release, it is important that you upgrade but we strongly recommend that you take extra precautions when performing this upgrade. This release features several improvements to the password storage system designed to help protect the future security of your Joomla! powered website.  These changes will cause compatibility issues with some 3rd Party Extensions, especially bridges.  If your Joomla! site utilizes bridges to other applications or extensions that have their own login system such as Community Builder, Virtuemart, or others you should not upgrade your site until those extensions have also been updated.
The changes to the password storage system should be transparent to your Joomla! site's users.  As users login for the first time after your site has been upgraded, their passwords will automatically be converted from the old password storage system to the new system.  Because of this automatic conversion of passwords, it is important that you backup your entire database before performing this upgrade.  Once the process of converting passwords has started, it cannot be reversed.
Release Information
1.0.13 is available as a full package,which contains all Joomla! files or as patch packages which contain only the files that have changed since previous Joomla! 1.0.x version.
1.0.13 Full Package
1.0.13 Patch Packages
1.0.13 Version Information
1.0.13 Changelog
Subcategories
The latest news from the Joomla Team
Announcements & News related to Official Joomla! project Releases
Information about Joomla! Team members