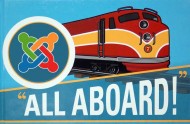 The December issue of the Joomla Community Magazine is here! Our stories this month:
Editors Introduction
On Track with Joomla!, by Alice Grevet
Feature Stories
My Joomla Timeline, by Helvecio
A Bright Future, by Alice Grevet
The Conference Crasher, by Brandon Boswell
The X Factor and Women in Joomla!, by Dianne Henning
Sitebuilders
Breaking Down Barriers for Joomla! Users, by Eden Orion
Part 2 - Review 9 Premium Web Hosting Services to take a Joomla! Site Live, by Tuan Bui
Project News
Leadership Highlights - December 2012, by Alice Grevet
Help the Joomla Certification Program Come Alive! - A Call for Volunteers, by Sarah Watz
Administrators
A New Way to Protect and Accelerate Your Site, by Ofer Cohen
Developers
Automating Your Component Demo Site, by David Hurley
Did you know...?
Trick to Use "Same" Email Address on Multiple Joomla User Accounts, by Nicholas G. Antimisiaris
Events
Kevinjohn Gallagher at the JWC12: Blunt, but Kilted., by Robbie Adair
JUG Bay Area, California, USA, by Jennifer Gress
The Joomla! Haikus
Post your Haikus for December, by Dianne Henning
Community Choice Extensions
The First Community Choice Extensions Winners! - December 2012, by Dianne Henning
International Stories
Browse the international articles submitted this month.
In our next issue
We want to publish your Joomla! story in the next JCM issue! So take a look at our Author Resources content to get a better idea of what we are looking for, and then register to become a JCM author and submit your Joomla! story!