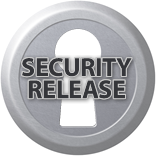 The Joomla Project is pleased to announce the immediate availability of Joomla 2.5.9. This is a security release. The Production Leadership Team's goal is to continue to provide regular, frequent updates to the Joomla community. Learn more about Joomla! development at the Developer Network.
The update process is very simple, and complete instructions are available here. Note that there are now easier and better ways of updating than copying the files with FTP.
Download
Note: Please read the update instructions before updating.
Instructions
Want to test drive Joomla? Try the online demo. Documentation is available for beginners.
Please note that you should always backup your site before upgrading.
Release Notes
Check the Joomla 2.5.9 Post-Release FAQs to see if there are important items and helpful hints discovered after the release.
Statistics for the 2.5.9 release period
Joomla 2.5.9 contains:


1 Security issue fixed
22 tracker issues fixed
Security Issues Fixed
Low Priority - Core - Information Disclosure.
Tracker Issues Fixed
Joomla! Bug Squad
Thanks to the Joomla Bug Squad for their dedicated efforts investigating reports, fixing problems, and applying patches to Joomla. If you find a bug in Joomla, please report it on the Joomla! CMS Issue Tracker.
Active members of the Joomla Bug Squad during past 3 months include: Aaron Schmitz, Akarawuth Tamrareang, Aleksander Linkov, Andrea Tarr, Andrew Eddie, Angelika Reisiger, Brian Teeman, Constantin Romankiewicz, Cristina Solana, Daria Mikhailova, Dennis Hermacki, Elin Waring, Harald Leithner, Jacob Waisner, James Brice, Jan Kuchař, Janich Rasmussen, Jean-Marie Simonet, Jonathan M. Cameron, Kevin Griffiths, Lukas Polak, Mark Dexter, Mark Lee, Michael Babker, Milton Bryant, Moises Jafet Cornelio-Vargas, Nicholas Antimisiaris, Nicholas K. Dionysopoulos, Nick Savov, Nikolai Plath, Ofer Cohen, Omar Ramos, Peter van Westen, Peter Wiseman, Rob Clayburn, Roberto Segura, Roland Dalmulder, Soheil Novinfard, Tessa Mero, Troy Thomas Hall, Viet Hoang Vu.
Bug Squad Leadership: Mark Dexter, Coordinator. Super-star contributors and leaders by example: Jean-Marie Simonet and Elin Waring.
Joomla! Security Strike Team
A big thanks to the Joomla! Security Strike Team for their ongoing work to keep Joomla secure. Members include: Airton Torres, Alan Langford, Bill Richardson, Elin Waring, Gary Brooks, Jason Kendall, Jean-Marie Simonet, Jeremy Wilken, Marijke Stuivenberg, Mark Boos, Mark Dexter, Michael Babker, Pushapraj Sharma, Rouven Weßling.