Joomla! News
Details

Category: Project Release News
Joomla! proudly presents its most important coding adrenaline surge to the development and designer community. With today's release of Joomla! 1.5 Beta-2, we're shifting gears into turbo mode; an entirely re-factored core, internationalisation, FTP layering, next-generation API and framework that's so flexible and powerful and, of course, a designer's dream for unparalleled templating flexibility.
The Red Barchetta — Beta-2

We've dubbed Beta-2 'Red Barchetta', in keeping with the spirit of freedom, power, simplicity and flexibility unknown in an Open Source framework. Besides Red Barchetta conjuring up triumph through coding revolution, this baby provides developers and designers with unequaled tools. This makes Joomla! 1.5 Beta-2 the ultimate enabler for your projects. Now is the time for you to take it for a serious drive to help our team refine the software for our release candidate goals. It's also probably the best time for you to start learning the nuances of the new system to enable you to migrate your extensions and templates to the next generation CMS.
Read more: Joomla! 1.5 Beta 2: The Developers' and Designers' Revolution!
Details

Category: Project Release News

The Joomla! Core Team takes this opportunity to announce it will be holding a Core Team Summit prior to the Joomla!Day USA (West), at the Googleplex, in California. Meeting over three days, both the core team and the Open Source Matters Board of Directors will be tackling many issues pertaining to the future of Joomla.
Details

Category: General News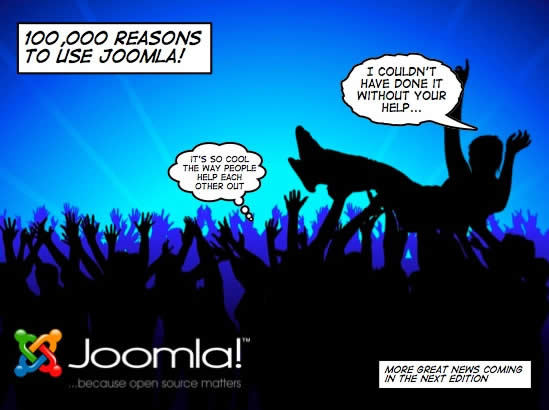 It's official — Joomla! has the largest Open Source CMS focused forum on the planet. In fact, by reaching 100,000 users signed up (validated), Joomla! contends with some of the biggest forums on the Internet. We reckon forum.joomla.org is in the top 10 of all comers.
Reaching this 100k watershed is significant as the heart of this reveals true Open Source source spirit with many of these members sharing their knowledge and experience. And this strength — the backbone of the project in many ways — manifests in a mature 'eco-system' that's self-supporting. Thousands of helping hands and minds.
"Joomla's success rides on the support available to end users through (among other places) our community forum," said Core Team member Brad Baker. "Time and time again, we hear users thanking us for the software, yet, without the active community Joomla! would not be where it is today ... one of the world's most popular Open Source projects. You are all a part of this and deserve a hearty thanks."
Subcategories
The latest news from the Joomla Team
Announcements & News related to Official Joomla! project Releases