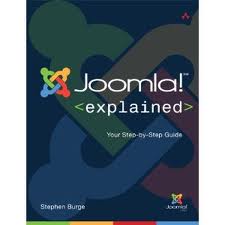 In October 2010 Joomla! Press, an alliance between Open Source Matters and Pearson Publishing, was announced to the community.
The Joomla! Project is proud to announce that the Joomla! Explained, the second in the series of publications, has been released for sale at Amazon and InformIT.
The book is available in both Paperback and e-book formats.
Click here to buy a copy of Joomla! Explained and help to support the Joomla! Project.
About Joomla! Press
Purchases of Joomla! Press books are a great way to help support Joomla as proceeds from books, including The Official Joomla! Book, go to the Joomla! project. To learn more about Joomla! Press please click here.
About Joomla! Explained
Master Joomla! 1.6 and 1.7 hands-on, step-by-step, through easy, practical examples!
Joomla! Explained teaches everything beginners need to know--and nothing they don't need to know!
Joomla! Explained requires absolutely no experience with Joomla! content management, website construction, programming, scripting, or even HTML. Stephen Burge has taught thousands of beginners--and thousands more who've experimented with Joomla! but haven't mastered it yet. Nobody knows more about guiding Joomla! users up the learning curve--from confusion to results!
You'll master Joomla! one easy step at a time, through a complete hands-on case study. Burge presents crystal-clear visuals, explanations, and analogies--all extensively tested with real Joomla! beginners.
This book covers Joomla versions 1.6 and 1.7.
The book's quick, easy coverage includes:
Understanding what Joomla! does and how it works
Installing the latest version of Joomla
Navigating your site's visitor and administrator areas
Mastering workflows that make site creation easy
Adding text, images, links, and formatting
Creating efficient, usable navigation
Providing contact forms, ad banners, and link directories
Using modules to enable site registration and search
Adding voting and other smaller "plug-in" features
Quickly changing site designs with Joomla! templates
Finding, choosing, installing, and using extensions
Building both business and personal sites, step by step
Giving customized access to different types of users
Managing site versions in multiple languages
Efficiently administering, backing up, and updating sites
Click here to buy a copy of Joomla! Explained and help to support the Joomla! Project.