General News
Details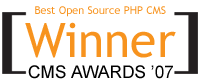 Packt Publishing today announced Joomla! as the winner of "Best PHP Open Source Content Management System" for 2007.
The award marks the second time Joomla! has won a prestigious Packt prize. Runners up were Drupal, followed by e107.
Details
Joomla! will have a presence at the upcoming Ontario Linux Fest Conference.
The Fest begins with a Welcome Party Friday evening October 12th. On Saturday, October 13th will be all day conferences and presentations as well as the corporate & dot org exhibitors. Saturday evening will be the Reception as well as the draw for door prizes. Joomla! will be represented by Jason Kendall, Alan Langford and Joe Sonne.
Read more: Joomla! at Ontario Linux Fest Conference, October 12 & 13, 2007
Details
Joomla! will be presented for the first time in Joomla!Day format for Joomla!Day USA (East) in New York, next month. So if you're a Joomla! devotee, this is an event not to be missed. Inspired by the incredible success of J!Days East Coast and Central, New York looks set to be even more successful.
The event is open to anyone, and will be taking place in the heart of New York City, at Google's East Coast headquarters on Saturday, October 13, 2007 — 9.30am-5pm ET. If you don't know Joomla! then this event is for you. If you do know Joomla! it's for you too! If you want to learn how to launch a website in minutes for a business or other endeavor, this event will provide you with the foundations of how to manage the world's most popular open source content management system. If you want to write code for Joomla! you will also be able to meet fellow coders and meet some of the people responsible for creating Joomla! 1.5. Joomla!Days are for anyone who wants to learn, create and improve their skills.