General News
Details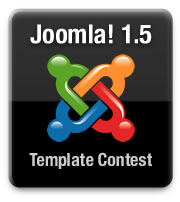 With the release of the eagerly anticipated Joomla! 1.5, the time has come to allow one of the skilled designers in our midst to become apart of the success that will be Joomla! 1.5. The Joomla! 1.5 Template Contest is open to anyone with a passion for design and a desire to have their design seen and used by millions of people globally as theydownload and install the stable release of Joomla! 1.5.
Contest Prizes
The five finalists will each receive a Joomla! prize package that includes a Joomla! laptop bag, Joomla! shirt, Joomla! hat, and a Joomla! 256MB USB memory stick.
The grand prize winner will have his/her template added as the third template to the Joomla! 1.5 core distribution to be downloaded in every Joomla! 1.5 package.