General News
Details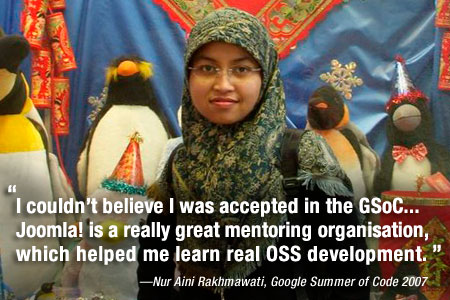 We are pleased to announce Google has accepted Joomla!'s application to participate in the 2008 Google Summer of Code (SoC) program. This is Joomla!'s fourth season and we are eager to welcome another group of contributors with fresh ideas.
With the Summer of Code, Google sets up a win-win situation for students and open source projects. Instead of flipping burgers during summer break, talented student developers can do what they love and write great code in exchange for a $4,500 USD stipend. Even open source projects benefit with improvements to the code base and a $500 USD stipend per participant.
Perhaps the most important benefit is the long term involvement that can result. Both Nur Aini Rakhmawati and Hannes Papenberg were invited to join the Joomla! Development Team after successful SoC projects.
If you are a student interested in participating, consider Joomla!
Joomla! is an international award-winning open source content management system deployed worldwide with more than 3.5 million downloads in the last year alone. If you participate with Joomla!, your work could have a positive impact on people all around the world. If you enjoy developing applications and you want to work with experienced developers using emerging technologies, consider Joomla!.
Since Joomla! 1.5 has recently been released after over two years of dedicated effort, this summer looks even more promising. In just a few months, Joomla! 1.5 has been downloaded over 350,000 times. Developers now have an object-oriented, pattern based API that follows best practices and is organized into well-structured and logical framework packages. The new MVC design pattern for components gives developers a great platform for rapid application development and prototyping. Developers can hook into nearly any part of the application stack using Joomla!'s newly reworked events system, implemented according to the observer design pattern.
Want to get started? Here's how:
The student application period begins Monday, March 24, 2008 and ends Monday, March 31st at 5:00 PM PDT. The application and submittal instructions will be provided on the Google SoC 2008 page soon. Other important dates and events are detailed in FAQ - Project Timeline.
Do you want to be a mentor?
Another great way to participate is to become a mentor. Get ready to learn, meet a new and interesting friend, and have fun. Mentoring for the Google Summer of Code project has proven to be a rewarding experience. It's not only a good way to share your knowledge and experience, but it is also an excellent way to get more involved with the Joomla! Project and to get to know other Joomla! developers.
For more information, read Want to be a Mentor? Start reading here! in the Joomla! forums and Google's Advice for mentors. Feel free to ask questions in the forums about participation.
This will be another great Google Summer of Code program!
Thanks to all of our past SoC participants, mentors, and especially to Google for helping make good things happen with the Google Summer of Code program. We are confident 2008 will be the best year ever!
Details
The Joomla! 1.5 Demo Web Site is now available online. Using the demo site, you can take a closer look at the new Joomla! 1.5 features and changes.
The demo site content is refreshed every 30 minutes. There are security precautions in effect to protect the privacy of other site users and to better ensure site stability. To test drive the demo site, you need to register and activate your account by clicking the link in the activation email. All user accounts are given Super Administrator access and can perform all functions except those that could be abused. Each demo user account remains active for one month.
Feel free to use our new resource and to share it with others interested in exploring Joomla!'s capabilities!
Learn more about Joomla! 1.5
If you want to learn more about Joomla!, the Absolute Beginner's Guide to Joomla! contains a wealth of information for new users. Here are some additional resources for those just getting started:
Joomla! 1.5 Features
The Joomla! Core Features Guide, written by James Ramsay, is another good way to review basic functionality.
Joomla! 1.5 Quick Start
The Joomla! 1.5 Quick Start Guide, written by Kevin Hayne, and the series of accompanying videos developed by Michael Casha, are excellent step-by-step learning tools. These tools take you through building a Joomla! Web site for a fictitious landscaping company, from download and installation to configuration and template customization. They're a fun and easy way to master Joomla! quickly.
Questions or Problems
Please report any problems with the demo Web site in the Sites & Infrastructure forum. If you have questions about using Joomla! 1.5, please post in the Joomla! 1.5 forum. Have fun with Joomla!
Special Thanks
A special thanks goes out to our own Levis Bisson for working to get the new demo site up and going.
Details
ZIP Packages
Joomla_1.0.15-Stable-Full_Package.zip
74660f09f6abbee02b261e4c9c4dad9b

Joomla_1.0.12_to_1.0.15-Stable-Patch_Package.zip
14f07cab3fbea7ba79a7d6370d5aa8c6

Joomla_1.0.13_to_1.0.15-Stable-Patch_Package.zip
cf9de99302f0af263f5b6853bf9a319d


Joomla_1.0.14_to_1.0.15-Stable-Patch_Package.zip
a9f8bf6b6fd3eb0421e40a0d0cb075a3


GZIP packages
Joomla_1.0.15-Stable-Full_Package.tar.gz
4624a8c42ebce90d2587f5cf1ac4f21b
Joomla_1.0.12_to_1.0.15-Stable-Patch_Package.tar.gz
5ff6c481768bb0972e81e974cff4c9a6

Joomla_1.0.13_to_1.0.15-Stable-Patch_Package.tar.gz
e881cd3a4e342a9141709e01499043a9


Joomla_1.0.14_to_1.0.15-Stable-Patch_Package.tar.gz
acab05af588956f70fcdfe33704fd0b0
BZIP2 packages
Joomla_1.0.15-Stable-Full_Package.tar.bz2
278d6cfc19a2de07a298820304ccaa34
Joomla_1.0.12_to_1.0.15-Stable-Patch_Package.tar.bz2
7c31f38b7231e741eb212f9abf8e7d9e

Joomla_1.0.13_to_1.0.15-Stable-Patch_Package.tar.bz2
d95495c368f8ca906db1dd518898d42d


Joomla_1.0.14_to_1.0.15-Stable-Patch_Package.tar.bz2
5341e054e3e796e684b75b1a5c362447