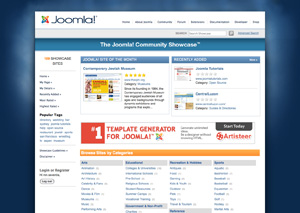 The Joomla Project is pleased to announce our latest undertaking to promote sites using Joomla—our new Joomla! Community Showcase. The showcase is a hub for community users to share sites they've discovered or built themselves.
Launching today with just over 100 sites, the showcase has a wide range of categories—arts, education, business, sports, non-profits and more. It's designed in the same familiar layout as the Joomla Extensions Directory so users will be able to quickly find what they're looking for.
Submitting a Web Site
It's easy to submit a site for inclusion in the showcase. You'll need to register first on the showcase site and be sure to read the Guidelines for Submission before submitting. Make sure the site isn't already in the showcase by doing a search first. Not all sites will be accepted into the showcase so make sure your site meets the guidelines. Ideally, it's a site that shows off the power and extensibility of Joomla.
We also expect you to add site thumbnails (not logos) to your submission. If you only have one, that's fine. But if you have more, make sure they show off a variety of layouts—otherwise all your thumbnails will look identical.
Remember, it takes time to verify each site submission we receive so sites will not be automatically added immediately. Careful not to add too many of your own sites at once or you might be considered a spammer. We recommend you submit no more than 10 sites each month.
Site of the Month
Each month, we will highlight a Web site that demonstrates exemplary quality, flexibility, and design. If you want your site to be considered, make sure you fill out all the site information accurately and thoroughly.
Site Case Studies
While site descriptions are a general overview of the site and/or company, case studies are a way to delve deeper into the mechanics of the site, how it was built, what problems it solved, and how it fit into the overall strategy of the company. It's a way to give other Joomla users insight into the process and what extensions were used. We encourage site creators to write detailed case studies. If your site has a good case study, you'll exponentially increase your chances of being awarded the Site of the Month.
Tagging your Submissions
The showcase also has a built-in tagging system to more clearly identify site traits. Add as many tags as you want (up to 80 characters) but don't repeat tags or add redundant information.
Room to Grow
We feel that this site will grow rapidly so have started with a small number of basic site categories wth the expectation that they will become more refined and extensive over time, adpating to the needs of the community. So get started submitting Joomla sites now!