Joomla! News
Details

Category: Project Release News

Joomla! 1.0.7 [ Sunburst ] is now available as of Sunday 15th January 2006 21:00 UTC for download here. 1.0.7 is essentially 1.0.6 repackaged to fix one major bug in 1.0.6 - therefore it should still be considered a Security Release. It contains nine (9) `Low Level` Security Fixes, and seventy (70 plus minor/non-critical bug fixes.
We recommend that you upgrade to this version. If you are running 1.0.6 you MUST upgrade to 1.0.7.
1.0.7 is available as a Full Package, which contains all Joomla! files and a Patch Package which contains only the files that have been changed by the Security & Bug Fix work conducted.
To ensure the integrity of the files you are downloading you are advised only to download from the 'Official Source' on the Official Joomla! Forge. As an extra security measure we now make available the MD5 checksum of the respective package files to allow people to do integrity checking.
1.0.7 Changelog
1.0.7 Version Information
1.0.7 Package File MD5 checksums
Details

Category: General News
Well folks, we've had this under wraps somewhat but what better time to share some good news than at New Year.
The concrete is setting on our Joomla!™ 1.1 codeset and it will be delivering many cool features, primarily designed to provide Third Party Developers (3PDs) with more power and ease of code integration.
Yes, it's true. Joomla! 1.1 will provide an entry into a modern codeset allowing Object Orientated development, with inbuilt internationalisation (multi-lingual support), a refactored core and, FTP extension installation. Put simply, core restructuring and modernisation of code all built on a robust framework which allows the developer more power and flexibility with less effort.
UTF-8 built in — Internationalisation (translation of the core system) allowing multi-lingual support
Core Restructuring — modernisation of core, providing a more powerful, flexible framework
FTP uploading of extensions (components, modules, plugins, templates), resolving file ownership and Safe Mode issues
Database drivers — a project providing the ability for Joomla! to work with databases other than mySQL
Hooks for officially supported components already in the core
Plugin framework - a system to allow easy integration of external web applications
Details

Category: General News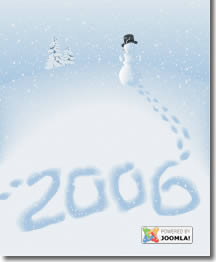 With a New Year around the corner, the Joomla!™ Team would like to wish the community the best.
Thanks to those of you who've taken the time to write with your wishes for the year end.
Our happy worker bees have been continuing development during the Festive Season and released 1.0.5 in time for Christmas.
We've got some more good news coming in the New Year. In fact, we've already hinted a couple of times about raising the bar in terms of power and standards for third party developers. We've also got some news about a forthcoming release with both feature and functionality improvements. 2006 will see us build on new technologies enhanced by a more robust, standardised, modern codeset.
What are we saying here? Well I guess you'll need to wait to see the announcement on January 1st!
Until then, enjoy your New Year celebrations and if you're not partying too hard drop by for a Joomla!™ Powered 2006.
Subcategories
The latest news from the Joomla Team
Announcements & News related to Official Joomla! project Releases