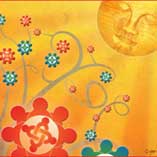 The November issue of the Joomla Community Magazine is here with news about exciting volunteer opportunities, along with inspirational Joomla! success stories, invaluable how-to articles, and so much more.
In this Issue:
Editorial
Joomla! Rising!, written by Dianne Henning
Feature stories
The Joomla! Haiku: Share yours!
Prolific poets,
punsters and word masters too,
spread the Joomla! love...
International stories
Community members have submitted two articles in two different languages for this issue.
Opportunities are now open for community members to submit articles in 17 different languages.
Shizzle my nizzle, crocodizzle! Marcus Tullius Cicero is back, gangsta style!
Leadership Connections
Website Case Studies
Robert Vining brings us to Zuno Studios' Maribel Lackey, Director of New Media & Client Services to ask her about a recent site build they just completed:

Women's Refugee Commission.
Keeping it on the African continent, and welcoming Joomla! community contributor,Phehello Mofokeng, we learn how the Dihlabeng Local Municipality embraces the positive and strong traits of Joomla! and rebrands their website.
Extensions and Services Evaluations
Developers Workbench
In this month's The Joomla! Setup, Arlen Walker takes us to the Big Easy with an interview of art and renaissance progeny, Louis Landry.
Did you know…?
Designer's studio
Administrator's toolkit
Community contributor Theophanis Mastakas gives us some sound advice on website security.
Joomla! in the Press/Media
On the lighter side...
A special thanks to the members of the Joomla! community who are contributing authors in this month's issue: Michael Babker, Lars Eggert, Mike Hamanaka, Theophanis Mastakas and Phehello Mofokeng.
In our next issue
We want to publish your Joomla! story in the next JCM issue! So take a look at our Author Resources content to get a better idea of what we are looking for, and then register to become a JCM author and submit your Joomla! story!