General News
Details
FOR IMMEDIATE RELEASE:
The multi-award-winning team of core developers, that developed the world's most popular content management system known as Mambo, has changed the name of their software to Joomla!
Today, the development team unveiled the Joomla! project's new home at www.joomla.org.
The Joomla! project announcement comes three weeks after the development team unanimously voted to secure the project's future in the spirit of open source software.
The development team formed Open Source Matters (www.opensourcematters.org) to distribute information to users, developers, web designers and the community in general.
Read more: Award-winning Development Team Welcomes New Arrival - Joomla!
Details
The Joomla! community is pleased to announce that Google is sponsoring 15 amazing projects in our fourth Google Summer of Code. Students and mentors from all over the world will work together this summer to bring great things to Joomla!. This year, Joomla! is honored that CiviCRM is also part of the team. Sincere thanks to Google for their continued support of Joomla! and the 175 other free and open source organizations participating.
Congratulations to the Joomla! Google Summer of Code 2008 Students
Your proposals were selected from a very competitive pool of nearly 100 applications. Thank you to the mentors willing to share time for this important effort. Projects that held the most promise were selected and we look forward to seeing this work shared with the community this fall.
Details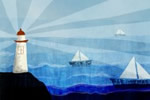 The March issue of the Joomla Community Magazine is here!
Our stories this month:
EDITOR'S INTRODUCTION
If You Want To Build A Lighthouse..., by Paul Orwig