General News
Details
We announced the birth of baby Joomla! just over six months ago. During that time baby "J!" has matured into a highly-acclaimed, award-winning CMS of choice. Not a bad effort for something so new. Most of us know Joomla's heritage and the massive contributions made by developers and community members to further our aims and ensure its future.
For some time now we've been unable to accept donations to the Joomla! project — much to the frustration of many members of the community.
We can't count the number of times people have wanted to make financial contributions and, we must be honest, the money has been needed. But we couldn't accept it. There's a simple reason for the delay, we wanted tick all the right boxes to ensure everything was done correctly. Thanks to the professional guidance of the Software Freedom Law Center (based in New York), we are now, through Open Source Matters, officially registered as a not-for-profit.
Donations are always welcome ... and at the moment they will help in some specific areas. We have several expos coming up where Joomla! intends to participate.
While Joomla! is looking for ways to raise income from other sources, such as tasteful advertising, we are still expecting to rely on community support through donations to keep this baby fed.
We are pleased to announce we are now in a position to accept donations to help support our open source project.
Details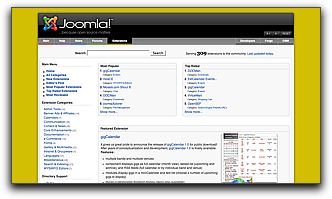 It's party time, folks! Today we proudly announce the launch of our Joomla! Extensions site. With Joomla! arguably the world's most popular open-source CMS and subsequently the largest active 3PD community, we're introducing the Extensions Directory to make things more fun. Yes, we have listened to the community about how it can be difficult to find things on the Forge. That message came through loud and clear and a working group has been furiously working behind the scenes to make things user-friendly.

What's this mean? Trying to find a particular component, module or bot (soon to be known as plugin when Joomla! 1.1 is released) on Extensions is a breeze. You can search by category, most popular, editor's picks, just as you can on high-end commercial software directories. Once you've found what you want to use, there's a "more information" and "download" links to the Forge where the developer's project sits. You will also be able to rate your choices, based on your experiences.
Details
Over the New Year we promoted our commitment to third party developers (3PDs), where we hinted at creating a cool hangout for all 3PDs to learn, exchange, mentor and explore their creative ideas. Well, today, as promised, we're delivering our Developer Network Portal.

The Joomla!™ Developer Network Portal, is, we believe, a first in the Open Source world. "This idea has been driven by both core development members and third party developers," said Joomla! project leader Andrew Eddie. "It represents another milestone in the maturity of Joomla! and there is no doubt from the feedback we're receiving it's a benchmark worth having."
Joomla! lead developer Johan Jansens said he wanted to see the portal become the "hangout" for developers to support each other and be free to explore the full power of Joomla! and its many innovations. "This is particularly true of Joomla! 1.1. We've already been working with 3PDs to help them make their components work well and draw from the power of the new API."
Read more: Joomla! First - A Developer Network Portal Raises Standards