News
Details

Category: Team News
How time flies ... Joomla! is one year old today. With more than 2.5 million downloads, over 50 thousand members and fast approaching half a million posts — Joomla! has much to celebrate. The one most telling factor in all this is the monthly data transfer is currently hovering at around 1.8 terrabytes. To put this into perspective, we reported data usage of one terrabyte in May. Astounding growth.
The core team wants to take this opportunity to thank the many who have supported the project with their skills, support and donations.
"There is no doubt the project, born from difficult times with the Mambo split, has both matured and grown," said 'interim' project lead Johan Janssens. "The milestones we have created this year include a more robust set of systems; hosting supported by Rochen, the Simple Machines Forums, Developer support through VA Software and, of course the amazingly successful Extension site."
Johan said the momentum created by the team, developers and the community since Sept 01, 2005, had ensured Joomla! a bright and prosperous future. "We saw baby Joomla! born exactly 12-months ago and how 'he' has matured in what seems a blink. During this time of evolution, we have been working hard on the next generation Joomla! — to be called version 1.5 — which will be more powerful than anything before."
Details

Category: Project Release News

Joomla! 1.0.11 [ Sunbow ] is now available as of Monday 28th August 2006 24:00 UTC for download here and is being designated a critical security release.
All existing Joomla! users must upgrade to this version, due to several High Level vulnerabilities that affect all previous versions of Joomla!
We have always been fully committed to a security first principle and new initiatives have and will continue to be started to reinforce and continue this principle. Joomla! 1.0.11 highlights a redoubled effort to put security at the forefront of everyones lexicon.
Like any and all software, security is a continually evolving and constant battle between application developers and hackers. The increased security threats discovered in the Joomla!Universe indicate nothing more than an increasing usage of Joomla! throughout the world and thus an increasing interest from hackers.
It does however serve to remind everyone, both application developers and application users that security is an eternal vigil and one cannot rest.
Details

Category: General News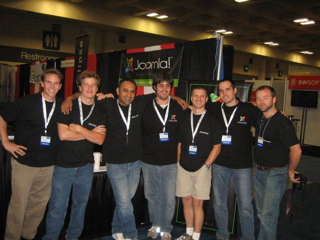 We wanted everyone to see the buzz at the San Francisco LinuxWorld, so we set up a webcam for everyone to check things out.
Johan Janssens and Louis Landry are attending the Joomla! stand at the show. They guys have been inundated with visitors who want to know more about Joomla!
Update 17/08 : Read Ryan's blog post about the teams adventures and find pictures

Subcategories
The latest news from the Joomla Team
Announcements & News related to Official Joomla! project Releases
Information about Joomla! Team members