News
Details

Category: General News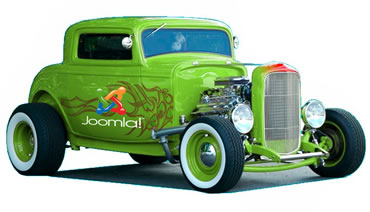 Some blips in the provision of services on our Forge has provided the Joomla! team with the opportunity to audit the way the developer experience works.  Joomla! has grown so quickly that the services of our forge have fallen victim to that exponential growth.
To remedy the situation, we're announcing the coming of a brand spanking new Forge.  Bigger, faster and optioned up with a fancy new paint job.  While we can't reveal all of the detail or what's coming in the next week, the Core Team feels the solution will further excite the creative development around our framework and set yet another Open Source benchmark.
What's this mean for me?
If you're a third-party developer who's been struggling with the old Forge, you will have two options: 1. Wait and see what we can migrate from the old Forge or; 2. You can register and start afresh on the new Forge once it's up and running. Once the new Forge is running and your project is populated, you will need to dovetail links from your project to the Extensions Directory.  If you're a user of extensions, you may need to show a little patience while we're taking these very necessary steps to ensure scalability of the project.  It'll be worth the wait.
Has this been difficult?
For the technical minds out there, considering migrating the Joomla! project alone is probably mindblowing — let alone the entire Forge!  Our guys have been working some crazy hours to find out what's possible and what's not.  Surprisingly, so far most of our needs have been met if not surpassed by solutions they've found along the way.  This could not have happened without the support of VA Software — even through some of the more difficult and painful experiences.
Pimped?
This baby has been 'Pimped by Rochen' —  this is going to be an exciting ride. We hope this conjures visions of Chris and Brad pin-striping the bodywork.  And given the progress so far, that new ride shouldn't be too long, so stay tuned.
Details

Category: General News
Google has confirmed it will sponsor the Google Summer of Code 2007, and Joomla! will again be participating in this great event. Last year we had six sponsored projects, guided by twelve mentors and six students working on research for the future Joomla! 2.0. This year we will try to be even more productive and more successful than we were in 2006.

For Joomla!, the Summer of Code brings several benefits. It helps bring fresh ideas and talents together in a co-ordinated way and has provided the project with four new development workgroup members who are now active in creating Joomla! 1.5. We expect one of these students to be a mentor within the 2007 Summer of Code Campaign.
Details

Category: Team News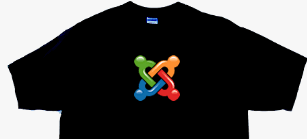 Joomla! today announces the launch of its
official merchandise shop
. To kick things off we've got T-shirts in abundance, supplied by PrintMojo.com and our Amazon bookshop.
Joomla! shop co-ordinator Levis Bisson said he hoped the shop would provide Joomla! fans with a strong visual statement to demonstrate their support. "All profits from the shop will go back to the project to further its not-for-profit aims and ambitions," he said. "We've always welcomed donations from Joomla! users ... now there is a way to donate to the project and receive a cool J! T-shirt."
The creation of the shop has been a joint effort, with contributions from Johan Janssens, Levis, Andy Miller, Marko Schmuck, Brad Baker and Michelle Bisson.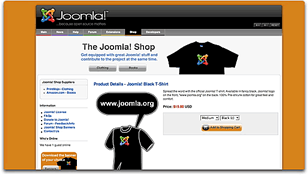 Levis believes the shop is a good starting point for Joomla! merchandise. Andy Miller has created some vibrant buttons so you can link your Joomla! site to the shop showcase. You can download the banners here .
Official Joomla! T-shirt
Spread the word with the official Joomla! T-shirt. Available in fancy black with the Joomla! logo in 4 vibrant colors on the front, and "www.joomla.org" on the back. 100% Pre-shrunk quality cotton for great feel and comfort.
Our clothing supplier is PrintMojo.com
PrintMojo.com is a all-in-one solution for selling custom printed products online by providing professional quality screen printing, warehousing, checkout processing and international shipping services.
Launched in 2003, PrintMojo.com handles printing and fulfillment for online communities, non-profit organizations, companies selling branded merchandise, as well as startup clothing lines. PrintMojo.com is backed by an in house screen printing and embroidery shop based out of Chico, California, that has been providing custom printing services to local and international clients for more than 20 years.
For more information
You'll find most of your questions answered on the Joomla! Shop FAQs page.
If you still have any questions or comments please visit the Joomla! Shop forum. Levis Bisson, Joomla! Shop Team Leader, and the Shop forum moderator team will be happy to answer your questions.
Look cool and support Joomla! at the same time.
Purchase your Joomla! Official T-shirt! today.
Subcategories
The latest news from the Joomla Team
Announcements & News related to Official Joomla! project Releases
Information about Joomla! Team members