News
Details

Category: Project Release News
The Joomla! Core Team takes this opportunity to announce it will be holding a Core Team Summit prior to the Joomla!Day USA (West), at the Googleplex, in California.  Meeting over three days, both the core team and the Open Source Matters Board of Directors will be tackling many issues pertaining to the future of Joomla!
Intensive workshops will be undertaken by a professional facilitator, to provide a vehicle for ideas and issues to be openly discussed and thrashed out if necessary.  Most recently, discussion about GPL and commercial extensions has fuelled heartfelt debate on the forums.  The Joomla! Core Team and Open Source Matters Board of Directors invites those interested in having their thoughts, concerns, and ideas floated at the Summit to write to This email address is being protected from spambots. You need JavaScript enabled to view it..

This allows all interested parties to fully explain how they would like to see the Joomla! 1.5 framework and its relationship with third party developers function in the future.  We have endeavoured to let everyone have a voice by letting the thread run on the forums.  As is the nature of forums, flames and inaccurate information abound.  The Joomla! Core Team recognises the wonderful impact third party developers have had in our community, and we're looking forward to helping the community find the right legal path to continue this unique aspect of our community.  With the great advent of Joomla! 1.5, we are seeking to ensure from the outset that Joomla! 1.5 stands on a solid legal footing, and we're looking forward to exploring this in more depth to continue to support our community.
Feedback
All feedback from the forum thread as well as emails sent to This email address is being protected from spambots. You need JavaScript enabled to view it., will be integral to review and consideration for the greater good of the project and the community.
Details

Category: General News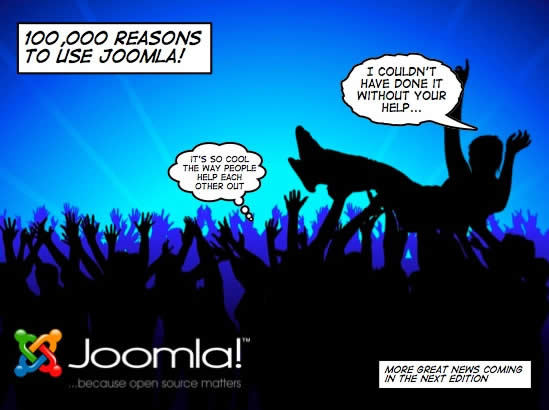 It's official — Joomla! has the largest Open Source CMS focused forum on the planet. In fact, by reaching 100,000 users signed up (validated), Joomla! contends with some of the biggest forums on the Internet. We reckon
forum.joomla.org
is in the top 10 of all comers.
Reaching this 100k watershed is significant as the heart of this reveals true Open Source source spirit with many of these members sharing their knowledge and experience. And this strength — the backbone of the project in many ways — manifests in a mature 'eco-system' that's self-supporting. Thousands of helping hands and minds.
"Joomla's success rides on the support available to end users through (among other places) our community forum," said Core Team member Brad Baker. "Time and time again, we hear users thanking us for the software, yet, without the active community Joomla! would not be where it is today ... one of the world's most popular Open Source projects. You are all a part of this and deserve a hearty thanks."
What's particularly heartening is that despite Joomla's phenomenal growth, the forum continues to engender friendly, helpful advice. When we started Joomla! back in September 2005 there were naysayers, and plenty of them. In fact one so-called industry expert said Joomla! would "be a niche CMS". There's something rather gratifying in proving people wrong. Everyone who's taken the time to answer a question, solve a problem or submit a bug report is part of this success.
We could start quoting the ever-increasing statistics in this story however a quote from a pragmatic new user sort of sums up how things are working:
"To make my decision, I finally decided to look at the community that surrounded and supported each product. As a test, I made an inquiry into the general support message boards of each product. My Joomla post received a number of helpful responses in a relatively short time frame. My ****** (another Open Source software) post languished for days, and even after asking a second time for feedback, was still unanswered. As I'm going to be learning each system, and relying on others to help me, this experience ultimately swung the pendulum to Joomla."
Okay, we couldn't resist, here's some numbers:
An average of 172 new user sign-up each day
765,000 posts
More than 1200 posts daily
Again, congratulations particularly to those of you who've taken the time to extend a helping hand. We are made stronger by those helpful souls around us.
Free A3 Poster
To celebrate this special occasion, download this high-resolution A3-size PDF poster (for personal, non-commercial use only).
Details

Category: General News
Today marks a defining moment in the Joomlasphere, which sees the launch of our gForge.  Yes, the new 'V8 hot rod' has arrived — and we believe it will provide the best development environment for a number of reasons but primarily to future-proof and cope with huge load.
The Paint Dried Today
When we announced the move last week, we still had plenty left to do to 'Pimp our Ride' but the team has done an amazing job.  Today we've sent out emails to project administrators to inform them they will get best benefit by: 1. registering on the new Forge ASAP, 2. reconciling their download links on their Extensions Directory projects.
"We've had to throw a lot of time at the Forge," said Louis Landry.  "This has been extremely resource hungry in terms of development team hours but we're happy with the end result — and we believe Joomla's army of third party developers (3PDs) will be too.  This was a challenge that had to be taken on full-frontal — the outcome should be self-evident in the biggest Open Source development environment on the planet."
The Process for 3PD Projects  
Louis said 3PDs of larger projects can make individual requests for migration from the old Forge.  "We've managed to migrate Joomla! including our subversion repository ... but this has been very taxing time wise," he said.  "We recommend developers start afresh where they can.  Owners of larger projects which merit migration should contact the Forge team and make a request to that end," he said.
Driving Lessons for Project Admins
The new Forge has detailed instructions which can be read here.  It's worth noting that the Forge is primarily a place for code and development.  Note: If you're a non-developer looking for Joomla! extensions, the Extensions Directory is the place to search.
Feedback Loop

As the Forge in itself is a work in progress, we would appreciate any feedback with issues you discover which may need attention.  Enjoy the ride.
Subcategories
The latest news from the Joomla Team
Announcements & News related to Official Joomla! project Releases
Information about Joomla! Team members