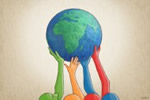 The May issue of the Joomla Community Magazine is here!
Our stories this month:
EDITOR'S INTRODUCTION
Joomla! Around the World…, by Dianne Henning
FEATURE STORIES
5 Steps Towards Successful Time Management, by Gabe Wahhab
Joomla Events Website Launch, by Mike Carson
Pros and Cons of Partnering with a Web Design Agency, by Luke Summerfield
PROJECT NEWS
Leadership Highlights for April 2012, by Alice Grevet
SITEBUILDERS
Drupal to Joomla! Migration - Truthout.org, by Jon Neubauer
Best Ukrainian sites made ​​on Joomla CMS, Part 3, by Denys Nosov
DESIGNERS
Design Trends - Parallax Designs, by Peter Bui
How to convert Joomla 1.5 template to Joomla 2.5 template, by Tuan Bui
Free Your Fonts From the Web Safe Straight Jacket, by John Hooley
BUSINESS MATTERS
6 Powerful Tips for Every Multilingual Website, by Gabe Wahhab
Skyrocket Your Joomla! Business By Leveraging Subcontractors, by Luke Summerfield
RFP's, Proposals, and Contracts – Part 1, by Mike Carson
ADMINISTRATORS
Joomla ACL: Configuring back-end ACL, by Jen Kramer
EVENTS
A Tale of Two Cookies, by Paul Orwig
Joomla Events Around the World in May 2012, by Jacques Rentzke
The First Joomla!Day in Iran, by Hagen Graf
In our next issue
We want to publish your Joomla! story in the next JCM issue! So take a look at our Author Resources content to get a better idea of what we are looking for, and then register to become a JCM author and submit your Joomla! story!