General News
Details

PacktPub.com this week launched its inaugural Content Management System Award with a prize of US $5000 to the winning project, second prize $3000 and third prize $2000.
The award demonstrates Packt's commitment to the open source community and its users. Packt has a long and successful history of publishing user-friendly technical books for software users. They were one of the first, if not the first, publishers to create an English version Joomla! web tutorial and guide.
The award process involves Packt taking nominations from users and the top five "most nominated" or voted CMS' will be then considered by three independent experts. You can nominate Joomla! here.
Packt's timeline for the award sees nominations close on 01 Sept, the final five announced on 04 Sept, the judges voting work starts on 12 Sept and ends 7 Nov. The judges decisions and the announcement of the top three is scheduled for 14 November.
So for Joomla pros, users and fans, we need you to click here, type over there and then cross our fingers and wait. We may be only a click of your mouse button away from a successful nomination.
Details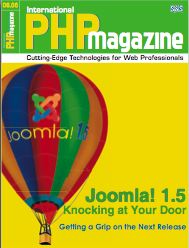 Core team member Mitch Pirtle has hit the virtual newsstands in a big way as the cover story author of this month's International PHP Magazine.
Mitch was invited to put pen to paper about forthcoming Joomla! technologies and proved a more than worthy scribe, as evidenced by landing the front page. He manages to encapsulate a lot of technical terms into a very good read for Joomla! users of all levels of expertise.
If you're wanting to know what's changing in Joomla! or what advantages there are in the new version over the 1.0 series, Mitch takes all of this in his stride covering the power of the API, new templating system, internationalisation and much more.
Sure, some of you already know all this and that Joomla! is the best open source CMS on the planet, but you can always use a high-quality feature such as this in your Joomla! brag book.
International PHP Magazine has provided this download link for a FREE sample of the entire article.
Details

Google's Summer of Code application window is fast closing. Talented developers who want the chance participate in the prestigious program "need to get their skates on".
Joomla! was involved with the program in 2005 and it was a huge success — generating several high-value projects. Much of the work from last years' developers is likely to appear in the future evolution of Joomla! Three of the students who were mentored by Joomla! Core Developers in 2005 are now core members themselves.
Lead developer Johan Janssens believes the success of the Google Summer of Code has created further momentum in the Open Source world. "The calibre of coders and the buzz around Google's sponsorship created a great place for creative minds to prosper," Johan said. "I'm extremely pleased that Google taken up the opportunity to support the Summer of Code once again."
As was the case last year, students participating in Joomla!'s summer of code 2006 will be mentored by a great team of core and community developers. All projects will need to be based on the upcoming Joomla! 1.5 which is going into beta soon. This new version of Joomla! has a completely refactored codebase and runs a full PHP application framework under the hood. Students will get the chance to either create interesting extensions for the Joomla! CMS or write framework libraries. Our developer network (https://developer.joomla.org/) will be used for community communication about the projects.
As of May 1, Google is now accepting applications from students.
If you are interested, you've only got until May 8th to send in your proposal, so you'd better get on it.