Joomla! News
Details

Category: General News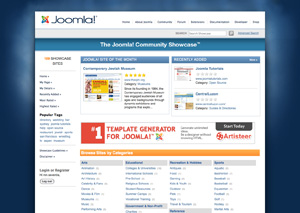 The Joomla Project is pleased to announce our latest undertaking to promote sites using Joomla—our new Joomla! Community Showcase. The showcase is a hub for community users to share sites they've discovered or built themselves.
Launching today with just over 100 sites, the showcase has a wide range of categories—arts, education, business, sports, non-profits and more. It's designed in the same familiar layout as the Joomla Extensions Directory so users will be able to quickly find what they're looking for.
Submitting a Web Site
It's easy to submit a site for inclusion in the showcase. You'll need to register first on the showcase site and be sure to read the Guidelines for Submission before submitting. Make sure the site isn't already in the showcase by doing a search first. Not all sites will be accepted into the showcase so make sure your site meets the guidelines. Ideally, it's a site that shows off the power and extensibility of Joomla.
Subcategories
The latest news from the Joomla Team
Announcements & News related to Official Joomla! project Releases