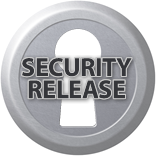 The Joomla! Project announces the immediate availability of Joomla 1.5.18 [Wojmamni ama wojnaiki]. This is a security release and also corrects one priority issue in version 1.5.17.
The Development Working Group's goal is to continue to provide regular, frequent updates to the Joomla community.
Download
Instructions
Want to test drive Joomla? Try the online demo. Documentation is available for beginners.
Please note that you should always backup your site before upgrading.
Release Notes
Check the Joomla 1.5.18 Post-Release FAQs to see if there are important items and helpful hints discovered after the release.
If you have modified core template overrides, please be sure to back them up before upgrading.
Security
High Priority - Core - XSS Vulnerabilities in back end.
Components
No component issues were fixed for this release
Modules
No module issues were fixed for this release.
Plugins
Revert issue 19859 (Graceful handling of Apache plugin failures) (20424)
Legacy
No legacy issues were fixed for this release.
Templates
No Templates issues were fixed for this release.
Language
No Language issues were fixed for this release.
Administrator
No Administrator issues were fixed for this release.
System
No System issues were fixed for this release.
Statistics for the 1.5.18 release period:
Joomla 1.5.18 contains:

1 issues fixed in SVN
3 commits

Tracker activity resulted in a net increase of 21 active issues:

29 new reports
7 closed
1 fixed in SVN

At the time the 1.5.18 release was packaged, the tracker had 337 active issues:

195 open
105 confirmed
37 pending
Joomla! Bug Squad
Thanks to the Joomla Bug Squad for their dedicated efforts investigating reports, fixing problems, and applying patches to Joomla. If you find a bug in Joomla, please report it on the 1.5 Bug Tracker.
Active members of the Joomla Bug Squad during this last release cycle include: Andrew Eddie, Ian MacLennan, and Mark Dexter Coordinators; Airton Torres, Artyom Bisyarin, Elin Waring, Marijke Stuivenberg, Matt Thomas, and Omar Ramos, Team Leaders.
Alan Langford, Alessandro Nadalin, Andrea Tarr, Christophe Demko, Dennis Hermacki, Edvard Ananyan, Flavia Silveira, Gergo Erdosi, Hannes Papenberg, Jean-Marie Simonet, Jennifer Marriott, Joseph LeBlanc, Julio Pontes, Kevin Devine, Klas Berlič, Koen Kuipers, Mustaq Sheikh, Niels Braczek, Ole Bang Ottosen, Pete Nurse, Ron Severdia, Ronald J. de Vries, Sam Moffatt, and Will Mavis.
A warm welcome to the newest members of the Joomla Bug Squad: Alain Rivest, Amy Stephen, Anja Hage, Artyom Bisyarin, Babs Gösgens, Beat, Bill Richardson, Bo Astrup, Brian Sullivan, Brian Teeman, Cristina Solana, Detlef Volmer, Duane Brown, Eduardo Diaz, Gobezu Sewu, Henrik Hussfelt, Jeremy Wilken, Joe Sonne, Manoel J. Silva, Marius van Rijnsoever, Mark W Bender, Nate Bohn, Nicholas Antimisiaris, Nicholas K. Dionysopoulos, Pierre Gazzola, Radek Suski, Rob Joyce, Robert Vining, Steven Littrell, Steven Trullinger, Troy Thomas Hall, Ulas ALKAN, Vicki Payne, Viet Hoang Vu, Waseem Sadiq, and Yuval Maman.