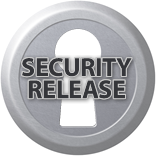 The Joomla Project announces the immediate availability of Joomla 1.5.20 [senu takaa]. This is a security release that addresses issues with the Joomla 1.5.19 packages. We recommend users upgrade immediately.
The Development Working Group's goal is to continue to provide regular, frequent updates to the Joomla community.
Download
Instructions
Want to test drive Joomla? Try the online demo. Documentation is available for beginners.
Please note that you should always backup your site before upgrading.
Release Notes
Check the Joomla 1.5.20 Post-Release FAQs to see if there are important items and helpful hints discovered after the release.
Joomla! Bug Squad
Thanks to the Joomla Bug Squad for their dedicated efforts investigating reports, fixing problems, and applying patches to Joomla. If you find a bug in Joomla, please report it on the 1.5 Bug Tracker.
Active members of the Joomla Bug Squad during this last release cycle include: Andrew Eddie, Ian MacLennan, and Mark Dexter Coordinators; Airton Torres, Artyom Bisyarin, Bill Richardson, Elin Waring, Marijke Stuivenberg, Matt Thomas, and Omar Ramos, Team Leaders.
Akarawuth Tamrareang, Alain Rivest, Amy Stephen, Andrea Tarr, Anja Hage, Ashwin Date, Bo Astrup, Brian "Sully" Sullivan, Brian Teeman, Chistopher Garvis, Christophe Demko, Cristina Solana, Dan Chay, Dennis Hermacki, Detlef Volmer, Gobezu Sewu, Hannes Papenberg, Henrik Hussfelt, Janich Rasmussen, Jean-Marie Simonet, Jeremy Wilken, Joe LeBlanc, Klas Berlic, Marius van Rijnsoever, Mark W Bender, Martin Blodau, Michael Babker, Nicholas K. Dionysopoulos, Nikolai Plath, Ole Ottosen, Pete Nurse, Phil Snell, Pierre Gazzola, Radek Suski, Rob Joyce, Ronald J. de Vries, Rune Sjøen, Sam Moffatt, Selene Feigl, Steven Littrell, Steven Trullinger, Tim Plummer, Troy Thomas Hall, Vicki Payne, and Viet Hoang Vu.
A warm welcome to the newest members of the Joomla Bug Squad: Alex Wai, Babs Gösgens, Cassiano Faria, Dan Chay, E.Karnika Yashwant, Janich Rasmussen, Jason Sponaugle, John Kouvakis, Jonathan Chang, Melissa Wetherby, Michael Babker, Nikolai Plath, Olivier Nolbert, Pablo Centurión, Phil Snell, Rick Stubblebine, Rune V. Sjøen, Sam Carecho, Sandino Nuñez, Selene Feigl, Steve Hanlon, and Tim Plummer.

Joomla! Security Strike Team
Thanks to the Joomla Security Strike Team for their dedicated efforts investigating reports, and fixing security issues in Joomla. Current active members of the Joomla! Security Strike Team are: Alan Langford, Claire Mandville, Ian MacLennan, Jason Kendall, Marijke Stuivenberg, Mark Dexter, Omar Ramos, Pierre Gazzola and Sam Moffatt.