Joomla! News
Details

Category: Project Release News
Joomla! lead developer Louis Landry announced Joomla's release candidate of Joomla! 1.5 today. The much-anticipated announcement of Joomla's amazing new framework was met with with enthusiastic applause. Meanwhile, almost simultaneously, Wilco Jansens delivered the good news to a group of Joomla! fans in Germany.
"This release candidate is more than one small step for Joomla!," Louis said. "It's a massive technology step for open source as a whole. This release candidate marks a defining moment in Joomla! history ... our progression away from old legacy code into a more powerful, flexible modern framework."
Wilco Jansens, who has been co-ordinating the release, anticipates great things. "We hope to go to RC2 (Release Candidate Two) early August and Stable should follow very quickly after," he said. "While working in the engine room over recent weeks, we knew we were on the brink of something great. Let the fireworks begin," he said.
Details

Category: General News
Packt is pleased to announce the launch date of the 2007 Open Source Content Management System Award as Monday July 16. Following on from the success of last year, Packt has expanded the Award for 2007 with an increase in prize money and the addition of new categories.
As many of you know, Joomla! won the award last year and there is no doubt that community support through voting was a significant factor in our success. Fingers crossed, you guys can help us win again!
Details

Category: General News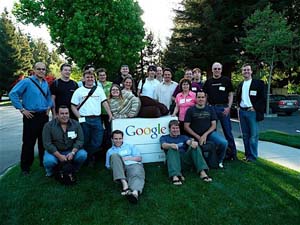 The recent Joomla! Summit, held last month at Google, provided the opportunity for core team members to consider a number of project position appointments. The team supported a vote for the appointment of Johan Janssens, Louis Landry and Shayne Bartlett as project managers. The new appointments of project managers provides a remit to work in facilitation roles with working group coordinators. This move takes the functional roles which the project has been working with from interim phase to a more formal structure.
We also take this opportunity to recognise three champions of open source. Core team members David Gall, Emir Sakic and Rey Gigataras are stepping down from core team positions. David, who worked in translations and on several Open Source Matters issues, is moving forward with personal goals. Emir, whose history with the project goes back to the Mambo days — as does Rey — has a range of projects on the boil. And finally, Rey, the stalwart 'Mr Fixit' of Mambo and Joomla! off to pastures new.
Subcategories
The latest news from the Joomla Team
Announcements & News related to Official Joomla! project Releases