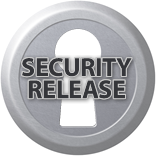 The Joomla Project announces the immediate availability of Joomla 1.5.26 [senu takaa ama busani]. This is a security release. The Production Leadership Team's goal is to continue to provide regular, frequent updates to the Joomla community. Learn more about Joomla! development at the Developer Site.
Download
Instructions
Want to test drive Joomla? Try the online demo. Documentation is available for beginners.
Please note that you should always backup your site before upgrading.
Release Notes
Check the Joomla 1.5.26 Post-Release FAQs to see if there are important items and helpful hints discovered after the release.
Security
Issues Fixed
None.
Joomla! Bug Squad
Thanks to the Joomla Bug Squad for their dedicated efforts investigating reports, fixing problems, and applying patches to Joomla. If you find a bug in Joomla, please report it on the CMS Issue Tracker.

Joomla! Security Strike Team
A big thanks to the Joomla! Security Strike Team for fixing all reported security issues with this release. Members include: Airton Torres, Alan Langford, Bill Richardson, Elin Waring, Jason Kendall, Marijke Stuivenberg, Mark Dexter, Michael Babker, Rouven Weßling, Samuel Moffatt.