Joomla! News
Details

Category: Project Release News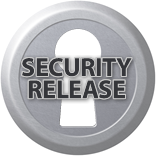 The Joomla Project is pleased to announce the immediate availability of Joomla 1.7.5. This is a security release.
Note that most users should update their sites to version 2.5.1 instead, which is now released. Version 1.7.5 is only intended for those users who for some reason are unable to update to version 2.5.1. Version 1.7 will reach end of life on 24 February 2012.
The Production Leadership Team's goal is to continue to provide regular, frequent updates to the Joomla community. Learn more about Joomla! development at the Developer Site.
If you are upgrading your existing 1.7 site, you should be aware that the method of upgrading has changed since Joomla 1.5 so we recommend you look at the instructions.
Download
Instructions
Want to test drive Joomla? Try the online demo. Documentation is available for beginners.
Please note that you should always backup your site before upgrading.
Subcategories
The latest news from the Joomla Team
Announcements & News related to Official Joomla! project Releases