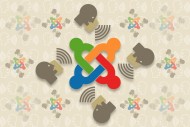 The April issue of the Joomla Community Magazine is here! Our stories this month:
Editors Introduction
Listen Up!, by Alice Grevet

Feature Stories
Interview with Community Development Manager David Hurley, by John Rampton
Joomla! is the People, by Helvecio da Silva
Interview with CMSExpo Founder John Coonen, by John Rampton
The X Factor and Women in Tech, by Dianne Henning

Events
JoomlaDay Boston, No Blarney!, by Dianne Henning

Project News
Leadership Highlights - April 2013, by Marijke Stuivenberg

Designers
Progressive Enhancement: Flip the Script on Your Responsive Ways, by Ryan Boog

Sitebuilders
Tips to Find a Joomla Developer, by Johans Empuerto

Business Matters
Creating Call-to-Actions that Will Actually Get Action, by Hannah Kaufman
Easy To Use Joomla Search Operator Commands, by John Rampton

Developers
Head in the Tag Clouds, by Elin Waring
4 Ways Joomla Developers Can Monetize Free Extensions, by Pravin Daryani
Joomla! 3.0 Extension Development Series: More Functionality, by David Hurley
Joomla! 3.1.0 Tag Field, by Roberto Segura

Administrators
CDNs for Joomla - A Beginners Guide, by Steven Johnson

Community Choice Extensions
Community Choice Extensions - UPDATE, by Dianne Henning

The Joomla! Haikus
Post your Haikus for April, by Dianne Henning

International Stories
Browse the international articles submitted this month.
In our next issue
We want to publish your Joomla! story in the next JCM issue! So take a look at our Author Resources content to get a better idea of what we are looking for, and then register to become a JCM author and submit your Joomla! story!