Joomla! News
Details

Category: General News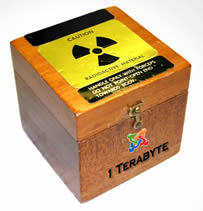 Joomla! is software; that we all know. But if its popularity was rated in radioactivity, it would well-and-truly be considered as having reached critical mass. The world's most-popular, award-winning, Open Source CMS (Content Management System) has topped One Terabyte (1024 Gigabytes) of data transfer for the month of April (excluding the Forge). This is enormous, and it reflects the exponential growth the project has been enjoying in recent times.
Sure, we know the metaphor defies nuclear physics, but you should appreciate the humour.
Core Team member Brad Baker cracked open the statistics package during the weekend to notice "all the dials were glowing". In fact, Brad and Chris Adams, of Rochen, have had to upgrade our servers to deal with amazing loads they've not seen before. Traffic to Joomla! sites has doubled since February.
Subcategories
The latest news from the Joomla Team
Announcements & News related to Official Joomla! project Releases