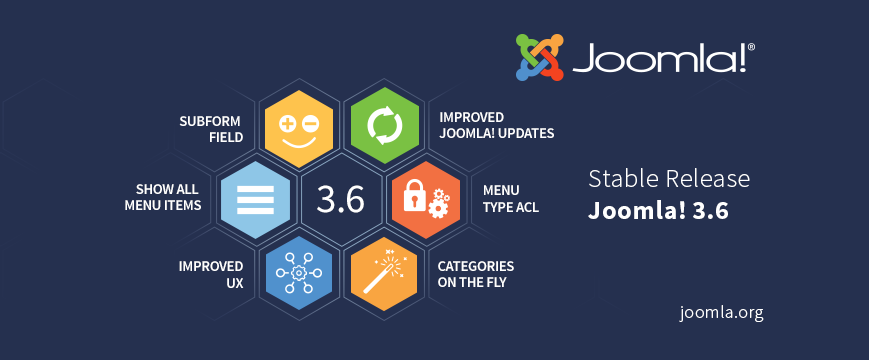 The Joomla! Project and the Production Leadership Team are proud to announce the release of Joomla! 3.6 as the latest in the 3.x series.
Joomla! 3.6 introduces more than 400 improvements, including many features which make administration of Joomla! Web sites easier and more feature-rich, as well as many UX (user experience) improvements.
Joomla! 3 is the latest major release of the Joomla! CMS, with 3.6 the seventh standard-term support release in this series. Please note that going from 3.5 to 3.6 is a one-click update and is not a migration. The same is true for any subsequent versions in the 3 series of the CMS.
What's new in Joomla! 3.6
Here are some highlights of the 3.6 release:
Joomla! Update has been improved and now allows you to reinstall Joomla's core files at the click of a button, overwriting any modified file(s) and reverting them back to the default.
Joomla! 3.6 contains a lot of UX improvements. Now you can find your modules faster, have tasks done by dropdown, improved user management and so much more...
With the new Sub Form Field function in Joomla! 3.6, we added some extra additional functionality next to Repeatable fields. Now you can nest XML forms inside each other or reuse your existing forms inside your current form.
Create categories on the fly: It can get frustrating when you create a new item, and you realise that you haven't created a category yet. Joomla! 3.6 now lets you create a category on the fly for articles, contacts, newsfeeds and banners.
Menu type ACL: ACL in the backend did not exist at the menu level, now we have improved that. Give or block certain user groups access to a specific menu, and therefore also all menu items of that menu.
See what's in your menus with All Menu Items: The new option to show all items from all menus gives you a quick overview of what is displayed where on your website. It has never been easier to spot duplicated links, missing menu items or just get an overview of every menu on your site.
And much more... To have a full list of the 3.6 features, please visit our GitHub Repository.
Download
How can you help Joomla! development?
The Production Leadership Team's goal is to continue to provide regular, frequent updates to the Joomla! community. You can learn more about Joomla! development at the Joomla! Developer Network.
There are a variety of ways in which you can get actively involved with Joomla. It doesn't matter if you are a coder, an integrator, or merely a user of Joomla. You can contact anyone on the Production Department, to get more information, or if you are ready you can jump right into the Joomla! Bug Squad.
The Joomla! Bug Squad is one of the most active teams in the Joomla! development process and is always looking for people (not just developers) that can help with sorting bug reports, coding patches and testing solutions. It's a great way for increasing your working knowledge of Joomla, and also a great way to meet new people from all around the world.
If you are interested, please read about us on the Joomla! Documentation Wiki and, if you wish to join, email This email address is being protected from spambots. You need JavaScript enabled to view it..
You can also help Joomla! development by thanking those involved in the many areas of the process. Since Joomla! 3.5.1, released on April 5th, 2016, no less than 1,659 commits have been made and 755 bugs fixed!
The Project also wants to thank all of the contributors who have taken the time to prepare and submit work to be included in the Joomla! CMS and Framework.
A Huge Thank You to Our Volunteers!
A big thank you goes out to everyone that contributed to the Joomla! 3.6 release! Find a list of contributors on https://www.joomla.org/3/thank-you
Spread the Joomla! Love
Are you looking for the official imagery for your blogpost, a banner on your site or an image to share on social media? You can find them all in many languages here.