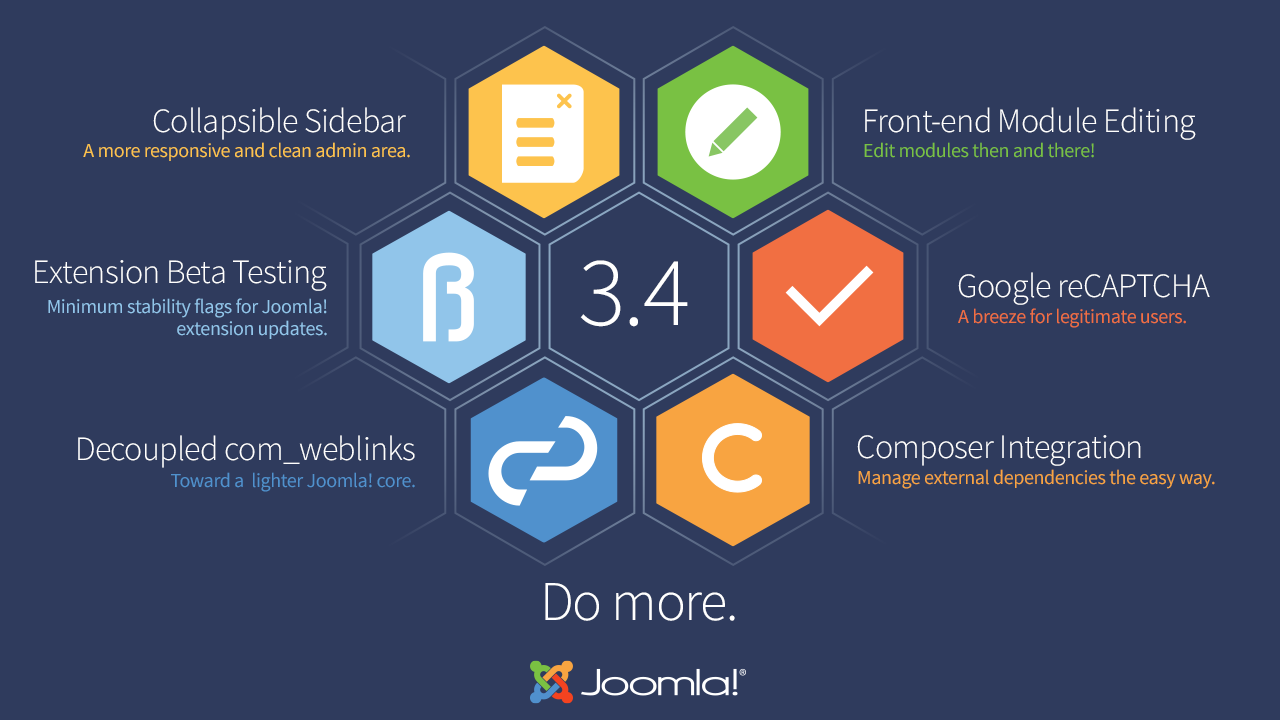 Joomla! 3.4 is almost ready!
We have revised the launch timeline slightly to ensure we can get everything up to the quality levels we all would like, and to ensure thorough testing on as many environments as possible.
The schedule is now as follows:
10 February – Beta 3
17 February – Release Candidate (RC)
24 February – 3.4 Release
The Joomla! Project is pleased to announce the availability of Joomla! 3.4 Beta 3. Community members are asked to download and install the package in order to provide quality assurance for the forthcoming 3.4 release.
Joomla! 3 is the latest major release of the Joomla! CMS, with 3.4 the fifth standard-term support release in this series. Please note that going from 3.3 to 3.4 is a one-click upgrade and is NOT a migration. The same is true is for any subsequent versions in the 3 series of the CMS. That being said, please do not upgrade any of your production sites to the beta version as beta is ONLY intended for testing and there is no upgrade path from Beta.
What is this release for?
This is a BETA release, that should only be used on test sites. Beta releases cannot be upgraded.
Extension developers are encouraged to work with this release in order to prepare extensions for the stable release of Joomla! CMS 3.4, though there shouldn't be any backward compatibility issues. Users are encouraged to test the package for issues and to report issues in the Joomla! CMS Issue Tracker. Please do not upgrade any of your production sites to the beta version and do not start a new site on beta as beta is ONLY intended for testing and there is no upgrade path from Beta.
Which bugs have been fixed in Joomla! 3.4?
A full list of issues resolved can be found on GitHub.
What's new in Joomla! CMS 3.4
Front-end Module Editing
Editing modules is faster and easier in Joomla 3.4. Incorporating Front End Module editing allows you to to edit modules directly on the page without the need to use the admin dashboard. This new feature simplifies the administration of websites by making them incredibly easy to edit!
Decoupling com_weblinks
The PLT is on its way on creating a lighter core. We accomplished the first step in this is by removing com_weblinks from the core distribution. These extensions are maintained on GitHub. Before the stable release of 3.4, a new category will be created within the Joomla! Extensions Directory (JED). This new category will be for extensions marked as core-supported. For websites using weblinks your website will continue to function as normal. This means weblinks will not be removed from your Joomla installation, maintaining backwards compatibility. Weblinks will install like a normal extension.
Composer Integration
In the 3.3 release, we introduced code from the Joomla! Framework into the CMS, however, the method in which it is installed into the filesystem does not align with how Composer installs code. For the 3.4 release, we are integrating Composer into the CMS for managing external dependencies such as the Joomla! Framework and PHPMailer.
No CAPTCHA reCAPTCHA
Google introduced a no CAPTCHA CAPTCHA API in December 2014. We updated the reCAPTCHA plugin to protect your login and registration forms against spam. While still supporting the old reCAPTCHA 1.0, you can now also use it for the new reCAPTCHA version 2.0. A significant number of your users can now attest they are human without having to solve a CAPTCHA. Instead with just a single click they'll confirm they are not a robot.
Core en-GB standardisation
The official language of Joomla is en-GB, and the goal is to standardise all the en-GB language strings in the core of Joomla based on the style guide that you can see here. This will ensure consistency throughout Joomla. It will provide translation teams with an easy framework and guidelines to create their own style guides to ensure consistency throughout the project.
What is the status of Joomla! CMS 2.5?
As of December 31, 2014 the Joomla! 2.5 release cycle has reached end of official support. What this means is that security updates and bug fixes will no longer be provided by the Joomla! Project for the 2.5 series. While the community may or may not provide patches for 2.5 into the future, nothing official will be released for the 2.5 life cycle. You can read the full announcements here.
How can you help Joomla! development?
There are a variety of ways in which you can get actively involved with Joomla! It doesn't matter if you are a coder, an integrator, or merely a user of Joomla!. You can contact the Joomla! Community Development Manager, David Hurley, This email address is being protected from spambots. You need JavaScript enabled to view it., to get more information, or if you are ready you can jump right into the Joomla! Bug Squad.
The Joomla! Bug Squad is one of the most active teams in the CMS development process and is always looking for people (not just developers) that can help with sorting bug reports, coding patches and testing solutions. A great way for increasing your working knowledge of the Joomla! code base, and also a great way to meet new people from all around the world.
If you are interested, please read about us on the Joomla! Wiki and, if you wish to join, email Roland Dalmulder, This email address is being protected from spambots. You need JavaScript enabled to view it., our Bug Squad coordinator.
You can also help Joomla! development by thanking those involved in the many areas of the process. In the past year, for example, over 1,000 bugs have been fixed by the Bug Squad.
The project also wants to thank all of the contributors who have taken the time to prepare and submit work to be included in the Joomla! CMS and Framework.
A Huge Thank You to Our Volunteers!
This beta release is the result of thousands of hours of work by dozens of volunteers.
A big thank you goes out to everyone that contributed to the 3.4 release! Right now we're over 1,930 commits since 3.3.6's release last October. Best of all is that the new features are awesome!