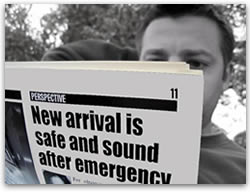 It's a baby!!! 01 Sep 05 1800 GMT
After a difficult and traumatic labour, Open Source Matters is delighted to announce the birth of their new baby, Joomla!
Parents and baby both doing well. Can't wait to see how baby Joomla grows up.
To see pictures of baby Joomla go to the forum.
The proud parents wait in trepidation for the first words of baby Joomla. To hear them first, go to the forum
OSM request that no presents are sent however expression of your joy can be left in the reader votes at www.linuxawards.co.uk (for your vote to count, you must make a valid nomination in all categories).
To see baby Joomla's first steps why not come along to LinuxWorldExpo in London, October 5-6.