Team News
Details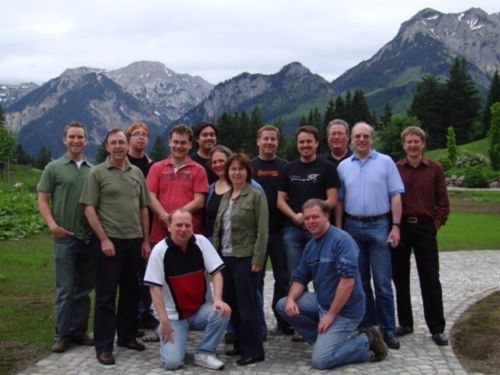 Front row (left to right): Lorenzo Garcia and Andrew Eddie; Back row (left to right): Ryan Ozimek, Levis Bisson, Sam Moffatt, Wilco Jansen, Louis Landry, Elin Waring, Michelle Bisson, Rob Schley, Alex Kempkens, Dave Huelsmann, Chris Davenport, and facilitator Adrian Ganz; Not pictured: Joomla! Core Team members Brad Baker and Ole Ottosen and OSM Board Members Wendy Robinson and James Vasile who were unable to attend the summit.
The Joomla! Core Team and Board of Directors of Open Source Matters, Inc. held their annual summit last week in the beautiful area near Pfronten, Germany. Meeting as a group is obviously rare given the community's international presence. And yet, it is important to take time to evaluate where the project has been and to consider how best to guide it's continued growth.
We thank each of you who contribute to this project. Whether you are a member of a working group, or you donate money, or you help new people get started in the forums, or you write code, documentation, or translations, or you organize Joomla! Day events, or you assist with your local Joomla! User Group, your efforts make Joomla! better. If you are hoping to get more involved with the community, but you don't know how to get started, consider participating in the Pizza, Bugs and Fun event scheduled for the last two weekends of June.
Soon ideas and plans from the summit will begin to emerge, but these concepts will only take shape and can only bring positive impact when powered by the Joomla! community. We encourage your involvement and look forward to working with you, all together, to ensure the continued success and growth of the Joomla! project.
Details
Recently there was a highly visible change at joomla.org as we relaunched our forums on phpBB3 . Along with the changes to our sites, we also have a few changes inside the Joomla! project to announce. Please join us in recognising and honouring the work of three core team members who have recently stepped down from the team and in welcoming a new member.
Tonie de Wilde has been the wizard behind the curtain for many of our sites and infrastructure projects since he joined the team. Tonie announced his resignation a while ago via a post on our team blogs, but we want to acknowledge his work and efforts and thank him for everything that he has done. He continues to contribute to the community as a global moderator on the forums.

Robin Muilwijk has been an ever-present and positive force most recently as development working group coordinator along with Wilco Jansen. Without his help we certainly would not be where we are, and he will be sorely missed. Robin will remain as a forum global moderator and will continue to help us all as he has time.

Andy Miller has been the guiding light of design for the Joomla! project since its beginning. Everything from our website templates to the administrator user interface to anything else that needed to look good has had the great benefit of Andy's touch. Joomla! most certainly would not be what it is today without his vision, his talent and his devotion.

Last, but certainly not least, also join us in welcoming an old friend back to the core team. Andrew Eddie was the project leader during the birth of the Joomla! project. After a time away from the core team, he has rejoined to help Joomla! into the future. Andrew will be joining Wilco as Development Working Group Coordinator and taking over where Robin left off.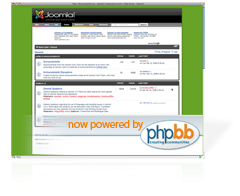 Over the last few months we have talked a lot with the phpBB crew as well as attended events together and have been continually impressed with their team and their software. With phpBB we have a cutting edge forum platform that is truly free and open source so that any modifications we make to improve the software can be easily given back to the entire phpBB community. The transition was a huge effort and we would like to thank the phpBB team, especially Josh, for helping in data migration as well as many other technical questions along the way. A special thanks goes out to our own Brad Baker who led this amazing effort. As with any change there will be hiccups along the way, but the transition has been very smooth. We look forward to a very bright future for our new forums.
Details

This week Joomla! will mark its one millionth post on the forums. This is amazing ... that's a heck of a lot of conversation, questions and answers. We believe the forum is the life force of the project and this milestone signifies Joomla's unstoppable community.
Core team member and forum admin Brad Baker says the million posts would never have eventuated without the passionate support of our moderators.
"The 1 million posts is a big one for sure," he said, "but without our teams of volunteers to keep the forum running efficiently it would never have happened."
"I'd like to dedicate this celebration to everyone involved with management of the forums ... all volunteers, all committed Joomla! users too. They all form part of the bigger picture that generally makes open source software an uplifting, shared experience.
Thanks guys and girls, this announcement recognises you!"
• 1 million posts and counting
• About 200, 000 topics and counting
• 130,000 plus registered members
We won't do an Academy Award thing and name all of the top contributors but it is worth noting that of the ten 'most time online members', seven are members of workgroups with a combined time online in the forums of more than 2.067 (rounded) years.
Some of the memorable moments include the launch of brand Joomla! Most loved it, some laughed at it but we reckon it's unforgettable. Of course there was the virtual BBQ and 'Your Joomla! story' where people were swapping thoughts and, of course, who could forget the more recent GPL discussions. We believe the next big step in traffic will be once Joomla! 1.5 goes stable. When? This is partly up to you ... come on, roll your sleeves up, jump in and contribute where you can. We're just hitting full stride.