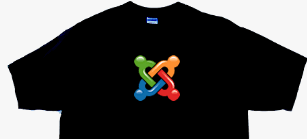 Joomla! today announces the launch of its official merchandise shop. To kick things off we've got T-shirts in abundance, supplied by PrintMojo.com and our Amazon bookshop.
Joomla! shop co-ordinator Levis Bisson said he hoped the shop would provide Joomla! fans with a strong visual statement to demonstrate their support. "All profits from the shop will go back to the project to further its not-for-profit aims and ambitions," he said. "We've always welcomed donations from Joomla! users ... now there is a way to donate to the project and receive a cool J! T-shirt."
The creation of the shop has been a joint effort, with contributions from Johan Janssens, Levis, Andy Miller, Marko Schmuck, Brad Baker and Michelle Bisson.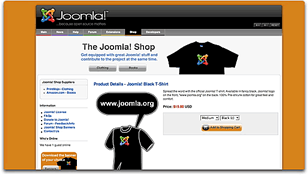 Levis believes the shop is a good starting point for Joomla! merchandise. Andy Miller has created some vibrant buttons so you can link your Joomla! site to the shop showcase. You can download the banners here .
Official Joomla! T-shirt
Spread the word with the official Joomla! T-shirt. Available in fancy black with the Joomla! logo in 4 vibrant colors on the front, and "www.joomla.org" on the back. 100% Pre-shrunk quality cotton for great feel and comfort.
Our clothing supplier is PrintMojo.com
PrintMojo.com is a all-in-one solution for selling custom printed products online by providing professional quality screen printing, warehousing, checkout processing and international shipping services.
Launched in 2003, PrintMojo.com handles printing and fulfillment for online communities, non-profit organizations, companies selling branded merchandise, as well as startup clothing lines. PrintMojo.com is backed by an in house screen printing and embroidery shop based out of Chico, California, that has been providing custom printing services to local and international clients for more than 20 years.
For more information
You'll find most of your questions answered on the Joomla! Shop FAQs page.
If you still have any questions or comments please visit the Joomla! Shop forum. Levis Bisson, Joomla! Shop Team Leader, and the Shop forum moderator team will be happy to answer your questions.
Look cool and support Joomla! at the same time.
Purchase your Joomla! Official T-shirt! today.