Joomla!'s newest appointed core team member, Chris Davenport, believes open source software brings collective benefit to people from all walks of life. In fact, it was a hard-nosed business decision which drew him to open source and the project, having seen he got more "bang for his buck" compared to proprietary software.
Chris, who lives in a village called Battlefield, near Shrewsbury, in the UK, has years of experience in IT and management. He is presently a non-executive director of a small manufacturing business but has always kept a handle on IT. His appointment to the core team will involve coordinating and creating developer documentation.
"Over time I found that open source is generally more flexible and better supported," he said. "If you can speak the same language as the developers, then they are very amenable to fixing bugs and making improvements. The same approach with proprietary companies falls on deaf ears; there's not the same ownership and pride that you get with open source."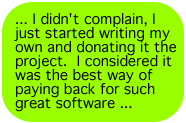 Why did you choose Joomla!?
"I was looking for a content management system to run an intranet back in 2003 and I tried every one I could find, but Mambo was the only one that was installed and doing useful work in a matter of minutes. I wanted to write some modules and components for it but I was disappointed by the lack of technical documentation. I didn't complain, I just started writing my own and donating it the project. I considered it was the best way of paying back for such great software. I was recruited onto the Developer Documentation Team pretty soon after that."
"When the split occurred I followed the Core Developers into the new Joomla! Project and continued working on the developer documentation."
How do you use Joomla!?
"Mainly running intranet sites. One of them uses a component which I developed for sending and receiving electronic documents, such as purchase orders, shipment advice notes and so on. It's mission critical stuff and Joomla! handles it perfectly. I also have a few public sites, all low volume, but I'm ashamed to say I hardly ever seem to get time to keep them up-to-date."
What do you enjoy about it?
"Not only does it do the job with complete reliability, it is backed up by a great team of people who really care, not only about the product itself and its future, but about the people who are using it. The community is the real strength behind Joomla! and it's great to be part of that community."
What will you be doing for the community as a member of the core?
"My focus will continue to be the developer documentation. Making it easier for third-party developers to understand how to leverage the power of Joomla! and the new Joomla! Framework. Someone looking at developing a Joomla! extension or wanting to develop a new application based on the Joomla! Framework is going to want to have good documentation to support them so that they can get up to speed quickly and be productive. It will be my job to deliver that documentation. Joomla! is already the best CMS on the planet; I want it to be the best documented too!"
Any hobbies, skills you enjoy that are not Joomla!?
"Well, I'm a governor for my kids' school and I help out where I can with the local autism support group. On those rare occasions when there is time left over I like to do some maths. I have this idea that synapses in the brain are using neuromodulators to do wavelet analysis and I'm trying to develop a mathematical model to show how it might work. Yeah, it's a bit crackpot and it'll probably never come to anything but working on mathematical problems is a great way to relax!"
Welcome to the team, Chris!