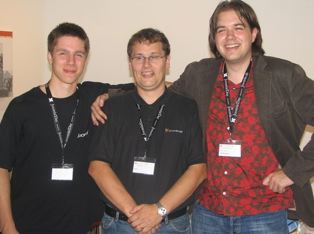 Wilco Jansen has joined the Joomla! Core Team. He has accepted a coordination role of the newly-formed Development Working Group. The group is made up of core team developers and community members. Wilco, 39, of The Netherlands, worked as the Joomla! Summer of Code program manager where he mentored a range of projects.
Wilco works as an IT manager for a health care insurance company and lives in Wijhe — and brings a wealth of experience including management, strategy and structure skills. Wilco said the new workgroup will initially aim at pushing out the Joomla! 1.5 Beta release and then move on to deliver a more cohesive workgroup strategy to further secure Joomla's future. If you're reading between the lines, this approach frees up key code contributors to concentrate more on code.
We took the time to ask Wilco a few questions:
Where do you think Joomla! will be in 12 months?
"From the development point of view we will be close to the beta of 2.0, and we will have surely developed a 1.6 and 1.7 version. From the end-user point-of view I expect Joomla! to be even more successful than it is now. Third party developers will discover the true power of the framework, and will develop functionality that Joomla! users will use. I also expect Joomla! to be used by large companies".
How does Open Source and Enterprise co-exist in the future?
The success of any industry is almost directly related to the degree of freedom the suppliers and customers of that industry enjoy. This indeed is the power of open source compared to closed source mostly used by entrpises. Open source has a community that will support innovation, and in fact they are part of the product development. Enterprises will find out that open source is at least as powerfull as commercial products. If, for instance, you take a look at Joomla! you will not find better support for software.
What was it about Joomla that made you want to get involved?
I was building my own CMS in 2003/2004 and the project grew a bit out of hand. In February 2005, a friend of mine pointed me to Mambo and it was love at first sight.
What skills do you bring to benefit the project?
I have been a programmer and even develop for Joomla! so I understand the coding geeks in the project. Beside that, I offer much expierence in organising and managing things. I think this is really needed for a project of this size. And maybe it is not what I bring to the program, but what the program brings to me; lots of interested people...in short a lot of fun!
How important are users to the future of Joomla?
Joomla! is open-source; open-source is nothing without a strong community. So users are indeed the most important audience. Joomla! may be driven by a small group call the core team, but in fact we exist only because of the community effort that is put into Joomla!
Wilco added he believed the workgroup will be in a position to communicate further changes once the 1.5 Beta is out. The team consists 16 members from the core team and the community. Four of the newest members of this team come from the Summer of Code project, Rastin Mehr (mentor), Hannes Pappenberg (student), Laurens VandePut (student) and Blagovest Dachev (student). Currently they are helping out with bug-fixing in the 1.5 Beta, later on they will support us with development of future Joomla! versions.
This is great news for the Joomla! project — the future is bright ... the future is Joomla!