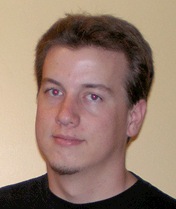 Rob Schley, of Los Angeles, California, has been appointed as the team coordinator for our Quality and Testing Workgroup . Rob replaces Robin Muilwijk, who has served in this position during the past year and has helped establish critical quality processes essential to our overall release operations. Robin will stay on as a global forum moderator and a Quality and Testing working group member and will continue to leverage his expertise within this group. "I'm honored to have been a part of such a great team and I'll continue to participate so I'm not going far.", said Robin.
Rob's forum persona is RobS and by the professional quality of his posts became an extremely valuable poster of security-related information about Joomla! Rob presently works for a small hosting company based out of LA, and also does security audits. He is currently preparing to start his own business built around the Joomla! phenomena.
We asked Rob for his Joomla! story, so in his own words: "I was working on a personal project when I discovered Mambo, I experimented with it a bit but eventually lost interest in the project and moved on to other things. Later, another project came up that needed a CMS so I went back to check out Mambo again, and I found out about the split and Joomla!. I choose Joomla because all of the developers moved here from Mambo," he said.
"I progressively became more involved in the forums and I joined the Q&T team to help with the beta testing and security issues that Joomla! faced. I have always had an interest in computer security so it was a nice fit for me. That interest began to show more as I focused my energies on the security forums where I was eventually asked to become a moderator. I think becoming a moderator was the real turning point with my involvement in the project because it shifted from a casual hobby to a real commitment."
What do you hope for the future of Joomla!?
"I just want to make Joomla! the best that it can be. This project has an amazing amount of potential and I would consider it an honour to help it mature and realise that potential."
Welcome aboard, Rob.