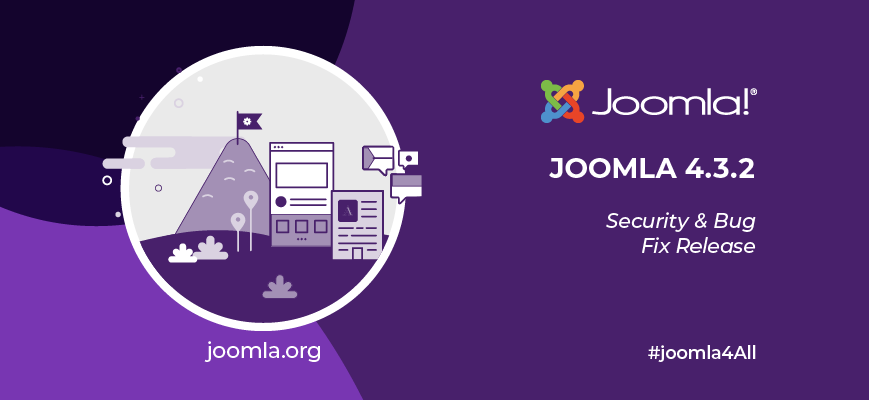 The Joomla! Project is pleased to announce the release of Joomla 4.3.2 This is a security and bug fix release for the 4.x series of Joomla.
This release continues Joomla 4's high standards in accessible web design, highlighting Joomla's values of inclusiveness, simplicity and security into an even more powerful open-source web platform.
Security issues fixed with 4.3.2
[20230501] Low Severity - Low Impact - Low Probability - Open Redirect and XSS within the mfa selection (affecting Joomla! 4.2.0 - 4.3.1)
More Information
[20230502] Moderate Severity - Critical Impact - Low Probability - Bruteforce prevention within the mfa screen (affecting Joomla! 4.2.0 - 4.3.1)
More Information
Bug fixes and Improvements with 4.3.2
This version fixes issues encountered during the update process by a number of users. In particular this release addresses:
Accessibility
hide table headers in tables rather than omit them when 'show headings' is set to 'no'
Banners
aria-label not translated in com_banners
reset statistics on banner duplication
cannot batch copy banners
Contacts
cannot batch copy contacts
Content
Content component improved validation when only positive integers are allowed
Editors
TinyMCE prevents white text on a white background in preview
TinyMCE editor plugin language of parts fails if subform fields are empty
Codemirror corrects path for keybinding script
Fields
re-introduction of specific layouts to render Contact custom fields
calendar type min/max year
PHP warning when preparing Text field
Guided Tours
escaping of data on update or new installs is unnecessary for the 'extensions' column
banners tour is skipping a few fields
order of the tours in the modal should no be sorted automatically, use the tour's view order instead
Media Manager
replace 'an error occurred' with 'this file type is not supported'
refactor the session fallback
remove warning in console
Mail Templates
tag needs to be quoted before being passed onto the regular expression
newly created mail template is not properly recorded in the database (missing extension data and double arrayed tags)
Smart Search
add padding to highlighted search words in smart search
detect whether Memory engine is supported
Tags
router issues on multilingual sites, breaking old URLs
hide the filter_tag parameter from the URL when the menu item is created with category type and filtering by tag or tags
Template
template parameter invalid json string
template manager PHP 8.1 warnings removal
missing Cassiopeia black color variable
Cassiopeia menu breakpoint for hamburger to prevent vertical menu
User
javascript error on login page when MFA
Text() not found on user login
category access levels should not apply to users having core.admin access
User groups tab use invalid checkbox ids
Module positions do not show in com_user settings
removed login message on login in the frontend
Fix submit button focus on frontend MFA captive login page when using Webauthn
Others
allow new category when no other category exists
when a component is disabled, menu items' icon should show 'component not found' and represent a warning rather than a cross with 'publish item' tooltip
improved messaging when an extension is missing checksum information (hash codes proving the file is genuine)
Articles categories module caching no longer fails
make schedule runner/keepalive work with adblockers/no script
remove any spaces from the disable_functions string in the php.ini before exploding into an array for checking and prevent error
undefined key in HTMLDocument setBuffer
PluginHelper::getLayoutPath should work in CLI (in non web context)
show empty state layout only when cache contains no data
improved RSS page title
update of the help table of content
PHP 8.2 warnings in Multilingual Sample Data plugin
list-view .js should work with Ajax content
The full list on GitHub is here https://github.com/joomla/joomla-cms/milestone/105?closed=1
Where can I download Joomla 4.3.2?
On the Downloads site, of course :)
New Installations
New installation instructions and technical requirements
Upgrade
To learn more about our development strategy, please read this article.
Where can I find documentation about Joomla 4?
Joomla 4.3 documentation can be found here: https://docs.joomla.org/Help4.3:Help_screens
There are some tutorials to help you with Joomla 4. You can find the existing ones, like creating a Plugin or a Module for Joomla 4, namespaces conventions, prepared statements, using the new web asset classes and many more in https://docs.joomla.org/Category:Joomla!_4.x
We encourage developers to help write the documentation about Joomla 4 on docs.joomla.org to help and guide users and other extension developers.
A JDocs page will help developers to see the existing documentation, and the documentation still needed.
We invite you to check it regularly, update it and provide the missing content: https://docs.joomla.org/JDOC:Joomla_4_Tutorials_Project
Most of the feature documentation is now needed as we have reached the release candidate stage.
Should I plan to upgrade to Joomla 4.3?
Joomla 4.x is Joomla's latest major version. Joomla 4.3 is the latest minor version.
Joomla 3.10 was released alongside Joomla 4 as the last minor release of Joomla 3 (see this article).
Joomla 3.10 will continue to be supported until August 2023 although as its now over 21 months since the release of Joomla 3.10 and 4.0 Joomla 3 will only get security releases.
You should be planning or in the process of migrating to the latest version of Joomla.
We provide resources to help with the migration on the documentation site.
Make some noise. Joomla 4.3.2 is out!
We released the best Joomla yet. Let's tell the world!
Get the message out about the great new features using the hashtag #Joomla4 and #Joomla4All.
J4 Brochure: https://joom.la/J4brochure
J4 Documentation: https://docs.joomla.org/J4.x:Getting_Started_with_Joomla!
Who is Joomla! For?
Do you need to make a website? For personal use, your work, a charity, not for profit. Perhaps a university, or local government, then Joomla is for you.
A web agency needs a well-supported framework that can grow as your clients' needs grow. Then Joomla is for you.
Written by volunteers from every sector, it's used all over the internet for all kinds of projects: from blogs and intranets to national government sites. From small shops to world-leading brand sites, Joomla is capable of growing to fit your needs.
Joomla's power comes from its ever-evolving code base, keeping up with best practices, but also from its large ecosystem of developers who see opportunities in the market and fill those gaps with good software designed to meet real-world needs.
Joomla 4.3.2 is the latest in a world-class CMS that allows you to start your website knowing it can grow with your needs and scale with your customers.
All this, and Joomla 4 is free-to-use and open-source software.
What are you waiting for? Install today and grow your future.
How can you help Joomla development?
There are a variety of ways in which you can get actively involved with Joomla. It doesn't matter if you are a coder, an integrator, or a user of Joomla. You can contact any of our volunteer engagement team to get more information, or if you are ready, you can jump right into the Joomla! Bug Squad.
The Joomla! Bug Squad and the CMS Release Team are some of the most active teams in the CMS development process and are always looking for people (not just developers) that can help with sorting bug reports, coding patches and testing solutions. A great way for increasing your working knowledge of the Joomla code base, and also a great way to meet new people from all around the world.
If you are interested, please read about them here Joomla! Wiki and, if you wish to join, email This email address is being protected from spambots. You need JavaScript enabled to view it..
The Project also wants to thank all the contributors who have taken the time to prepare and submit work to be included in the Joomla CMS and Framework.
Joomla 4.3.2 is the result of thousands of hours of work by lots of volunteers.
A Huge Thank You goes out to everyone that contributed to the 4.3.2 release!
Related information
If you are an extension developer, please make sure you subscribe to the general developer mailing list, where you can discuss extension development. News that may affect custom development will also be posted there from time to time.
Translations