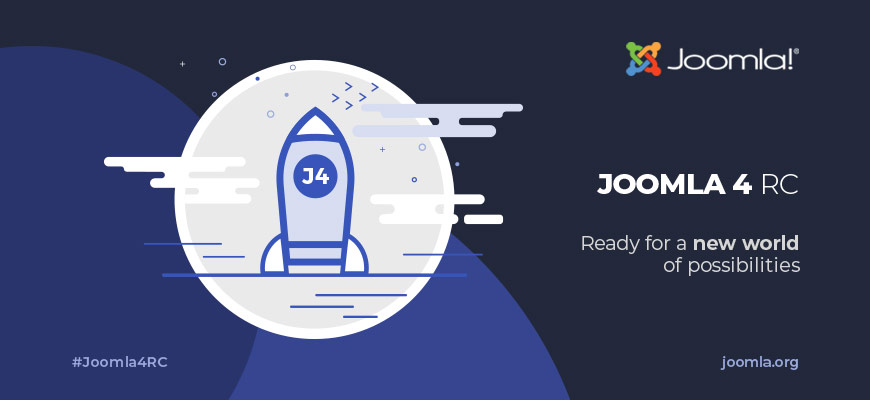 The Joomla! Project is pleased to announce the availability of Joomla! CMS 4.0 Release Candidate 2 and Joomla 3.10 Alpha 7.
Joomla users and extension developers are asked to download and install the packages in order to provide quality assurance for the forthcoming 4.0 and 3.10 releases.
Joomla! 4 is the latest major release of Joomla! CMS. Please note that going from 3.9 to 4.0 is a migration. You would need to upgrade your J3.9 to J3.10, which will be available the day J4.0 is stable. J3.10 has a compatibility checker to help guide you through the migration to J4.0. Please do not upgrade any of your production sites to the release candidate version!
What is this release for?
Joomla 4.0 RC2 is aimed at extension and template developers. To encourage them to work with this release in order to prepare extensions for the stable release of Joomla! CMS 4.0. Users are encouraged to test the package for issues and to report issues in the Joomla! CMS Issue Tracker. Test sites based on this release candidate can be taken through to stable but never use this version on a production site. There will be an upgrade path between release candidates and the final release candidate to the stable of Joomla 4.0 should you wish to try a new site build.
Spotlight on Joomla4Accessibility
Whatever size your site is, accessibility is a must, and from the start Joomla 4 delivers best in class accessibility. The layout, contrast and infrastructure all have accessibility built in so all your visitors will benefit.
Now you can change how you use Joomla as an administrator in your profile.
Using the accessibility tab you can:
Change the backend colour to monochrome.
Set the contrast from normal to high.
Highlight links.
Increase the font size.
All on a per user basis, helping those who create websites do so with ease .
And with accessibility as well as usability in mind in Joomla 4, just after opening any page of your backend, if you press the Tab key, a "Skip to" area will popup, and you will be able to easily browse all the main areas of that page.

And with the Additional Accessibility Features plugin enabled you can extend the experience to the front end of your site when logged in. This gives you unprecedented levels of control to:
Increase and decrease the text size and spacing.
Invert colours.
Remove grey hues.
Underline links.
Change the cursor size.
Add a reading guide.
Enable text to speech.
Enable speech to text.
And when adding images there is the image description (alt text) but also the ability to show its not required allowing for meaningful accessibility markup.
Is that all? No, but most of the work is not designed for the sighted user, the biggest improvements are hidden from sight.
With Joomla4 We have aimed for W3C Accessibility Guidelines (WCAG) 2.0 (with AA compliance)
How will Joomla 4 also benefit me?
Joomla4Speed
With Joomla 4 you benefit from the increased performance. Speed is one of the top factors in conversions whether your site is ecommerce or you need to grow your subscriptions. Joomla 4 gives your site the boost it needs.
Joomla4Security
Running a site with state of the art well written code helps you stay ahead when it comes to security. With many architecture changes designed to maximize security and keep hackers out, you can be assured that moving to Joomla 4 is a wise choice. The benefits are countless when it comes to ensuring you and your clients data are as well protected as they can be.
Joomla4Workflows
Workflows help you to run your site efficiently, making sure that the jobs that need to get done are done and by the right people. Combined with the many improvements in the media manager, content writers will love the new workflow and media manager.
Joomla4Emails
Deliver customised emails that welcome and inform your website's audience effectively! With the new email template system it's easier than ever to make the emails your site sends be on message and on brand. Now you can take your site to the next level when communicating with your customers.
Joomla4Search
Search is a boost to any site. It allows your visitors to hone in on the areas they are interested in, increasing engagement and improving your sites ranking. So when it comes to search look no further, Joomla 4 smart search has many improvements over previous Joomla search and is the best to date.
Link to J4 Brochure: https://joom.la/J4brochure
Link to J4 Documentation
https://docs.joomla.org/J4.x:Getting_Started_with_Joomla!
https://docs.joomla.org/JDOC:Joomla_4_Tutorials_Project
Joomla 3.10 helps with the transition to Joomla 4
Along with Joomla 4 RC2, we are releasing the seventh alpha version of Joomla 3.10.
Joomla 3.10 is the bridge between the 2 major series. Joomla 3.10 stable will primarily be a release containing backports of API changes from the Joomla 4.0 development branch to help ease the transition to the next major release for the community. Joomla 3.10 will be supported for 2 years after it has been finally released.
Once your website is updated to 3.10, the pre-update checker will allow you to check the compatibility with the Joomla 4.0 minimum requirements in terms of the current hosting environment and, more importantly, your installed extensions. This will help you migrate to Joomla 4.0 smoothly.
Can I update my website from 3.9.x to Joomla 4 RC2?
The simple answer here is yes. Not on a production site of course, but if you want to test the update to Joomla 4, now you can.
In order to upgrade from 3.9.x to Joomla 4, you have to go via the latest 3.10 release. There is no direct upgrade path between 3.9 and 4.x planned nor supported. All upgrades go via 3.10.
For the upgrade please follow these steps:
Go to the Joomla Update Component Options and switch the Update Channel to "Testing" and the Minimum Stability option to "Alpha".
Update to the latest 3.10 alpha using the Joomla Update Component.
Switch the Update Channel to "Custom URL" and set the Custom URL to "https://update.joomla.org/core/test/310to4_list.xml"
Now you get, update to the latest 4.0 Release Candidate.
Please carefully check the results from the pre-update checker in terms of your environment and your installed extensions before upgrading.
After the upgrade please switch back to the "Testing" Update Channel with the "Release Candidate" minimum stability to get future updates between Joomla 4 RCs.
If you need more details on the upgrade process you can find them in the documentation.
Who is Joomla! for?
Joomla4All
Joomla4! is for all.
Written by volunteers from every sector it's used all over the internet for all kinds of projects: small projects, but also national government sites. From small shops to world leading brand sites.
Joomla's power comes from its ever evolving code base, keeping up with best practice, but also from its large ecosystem of developers who see opportunities in the market and fill those gaps with good software designed to meet real world needs.
Joomla! 4 is the latest in a world-class CMS that allows you to start your website knowing it can grow with your needs and scale with your customers.
All this and Joomla 4 is free to use and open source software.
What are you waiting for? Install today and grow your future.
When is the stable release due?
We have revised the launch timeline slightly to ensure we can get everything up to the quality levels we all would like, and to ensure thorough testing on as many hosting environments as possible.
The schedule is now as follows:
New Joomla 4 Release Candidate every two weeks until Joomla 4 Stable is released.
Please note that dates may be subject to change depending on availability of volunteers and circumstances beyond our control.
How can you help Joomla! development?
There are a variety of ways in which you can get actively involved with Joomla. It doesn't matter if you are a coder, an integrator, or a user of Joomla. You can contact any of our volunteer engagement team to get more information, or if you are ready you can jump right into the Joomla! Bug Squad.
The Joomla! Bug Squad is one of the most active teams in the CMS development process and is always looking for people (not just developers) that can help with sorting bug reports, coding patches and testing solutions. A great way for increasing your working knowledge of the Joomla! code base, and also a great way to meet new people from all around the world.
If you are interested, please read about us on the Joomla! Wiki and, if you wish to join, email Jacob Waisner, This email address is being protected from spambots. You need JavaScript enabled to view it., our Bug Squad coordinator.
You can also help Joomla! development by thanking those involved in the many areas of the process. The Project also wants to thank all the contributors who have taken the time to prepare and submit work to be included in the Joomla! CMS and Framework.
A Huge Thank You to Our Volunteers!
This Release Candidate release is the result of thousands of hours of work by dozens of volunteers.
The changes from RC1 to RC2 alone contain
Fixes fatal error in the ldap plugin
Content history API endpoints URLs have changed
Changes to PATCH endpoints in the API Controller class
All fixes from Joomla 3.9.27 are part of this release
Various javascript files have been security hardened (thanks to Dimitris)
Over 100 bug fixes
A big thank you goes out to everyone that contributed to the 4.0 release! Right now we're over 45,458 commits with many different people contributing to those commits (not including testers and other non-coding activities).
Translations