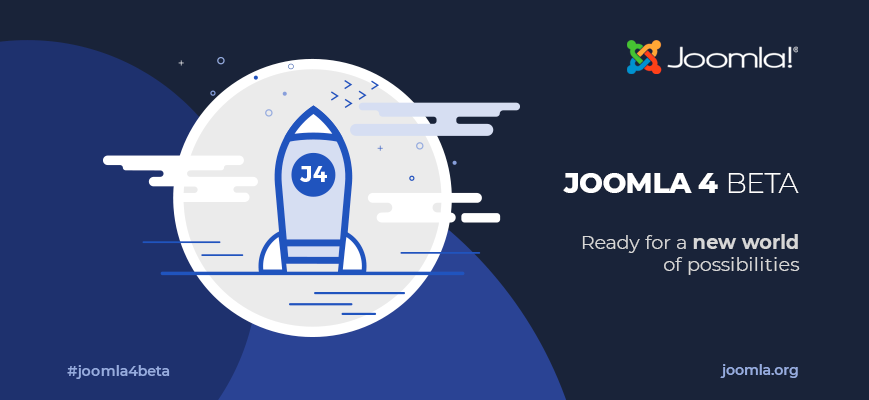 Once again the Joomla Project is pleased to announce the availability of the Joomla 4.0 Beta 6 release, and Joomla 3.10 Alpha 4.
We expect this to be the last beta of Joomla 4 and to have a Release Candidate available in February. We will also make a new portal available for translation teams to submit Joomla 4 language packs to coincide with the first Release Candidate.
We invite you to download, install and test the package to improve quality assurance for the forthcoming 4.0 release and to discover the new features introduced in this major release.
Do you want to try Joomla 4.0 Beta without migrating one of your sites? Test it directly at launch.joomla.org
What is the difference between Beta 5 and Beta 6?
Joomla 4 Beta 6 contains:
One backwards compatibility break to note - to implement tags you now need to have your Table classes implement the \Joomla\CMS\Tag\TaggableTableInterface. This was to fix issues between the refactored tags plugins and batch actions. This is similar to the interface we had already created for Versions. An empty interface and trait have been ported back into Joomla 3.10 in order to help migrations
Major improvements to the Cassiopeia frontend template
Updates from the 3.x branch to be inline with 3.9.24 Release Candidate 2
All mails sent by Joomla now use the mail templates feature
Fixes to session data when upgrading from Joomla 3.10 to Joomla 4 (you won't have to log in again on update now!)
We invite you to test this version and will be very grateful to receive all feedback you can provide, in addition to reporting issues and bugs in the Joomla CMS Issue Tracker.
In order to update from Joomla 4.x to any newer release please make sure you configure your Joomla Update Components Options to point to the Update Channel "Testing" and set the Minimum Stability to "Beta" this setting also now supports updates between pre-releases.
For a complete list of known backward compatibility issues for version 4.0, please see Potential backward compatibility issues in Joomla 4.0 in the documentation site.

Please visit GitHub to see all changes applied between Beta 5 and Beta 6.
Joomla 3.10 helps with the transition to Joomla 4
Along with Joomla 4 Beta 6, we are releasing the fourth alpha version of Joomla 3.10.
Joomla 3.10 is the bridge between the 2 major series. Joomla 3.10 stable will primarily be a release containing backports of API changes from the Joomla 4.0 development branch to help ease the transition to the next major release for the community. Joomla 3.10 will be supported for 2 years after it has been finally released.
With Joomla 3.10 we introduce a new feature to the Joomla Update component to help you with your mini-migration process: the Pre-Update Checker.
Once your website is updated to 3.10, the pre-update checker will allow you to check the compatibility with the Joomla 4.0 minimum requirements in terms of the current hosting environment and, more importantly, your installed extensions. This will help you migrate to Joomla 4.0 smoothly.
Call for Extension and Templates Developers Feedback!
We especially want to extend this call to test and more importantly feedback to all Joomla extension and template developers. Your products contribute to one of Joomla's key features: its extensibility. This release is the perfect moment to start working on getting extensions and templates ready for the stable version of Joomla 4.0 and 3.10. Your feedback is very crucial for the upcoming releases.
You can help us a lot by opening a PR or Issue on GitHub or getting in touch with George Wilson (This email address is being protected from spambots. You need JavaScript enabled to view it.) and Tobias Zulauf (This email address is being protected from spambots. You need JavaScript enabled to view it.) on these topics, so we can make sure that all the points have been reviewed upfront.
Can I update my website from 3.9.x to Joomla 4 Beta 6?
The simple answer here is yes. Not on a production site of course, but if you want to test the update to Joomla 4, now you can.
Upgrade notice: Due to merging both a preparatory step for an upcoming Joomla 4.1 feature and adding back the custom_data property - there will be issues upgrading from beta 3 to beta 4 (or later). You'll need to run a small amount of SQL before you make the upgrade - this is on the following documentation page: https://docs.joomla.org/J4.x:Upgrade_to_4.0_Beta_4
In order to upgrade from 3.9.x to Joomla 4, you have to go via the latest 3.10 alpha at this point. There is no direct upgrade path between 3.9 and 4.x planned nor supported. All upgrades go via 3.10.
For the upgrade please follow these steps:
Go to the Joomla Update Component Options and switch the Update Channel to "Testing" and the Minimum Stability option to "Alpha".
Update to the latest 3.10 alpha using the Joomla Update Component.
Now please switch the Update Channel to "Custom URL" and set the Custom URL to "https://update.joomla.org/core/test/310to4_list.xml"
Now you get the update to the latest 4.0 beta release.
Please carefully check the results you get from the pre-update checker in terms of your environment and specify your installed extensions before upgrading.
After the upgrade please switch back to the "Testing" Update Channel with the "Beta" minimum stability to get future updates between Joomla 4 betas.
Do you need more details on the upgrade process? You'll find them in the documentation.
When is the stable release due?
The timeline for the stable release depends on the feedback we get from developers and users. Join us in testing and reporting to help ensure a solid, timely delivery. Do you want to help out? Great! Below you'll find more information about what you can do.
The most up-to-date information regarding this timeline can be found in our project roadmap.
Where can I find documentation about Joomla 4?
We have started to provide some tutorials to help you with Joomla 4. We'll be writing more tutorials to help you understand the significant changes in Joomla 4. You can find the existing ones, like how to create a Plugin or a Module for Joomla 4, namespaces conventions, prepared statements, using the new web asset classes and many more here.
We encourage developers to help in writing the documentation about Joomla 4 on docs.joomla.org to support and guide users as well as other extension developers.
A JDocs page will help developers to see the existing documentation and the documentation that still needs to be written.
We invite you to check it regularly, update it and provide the missing content: https://docs.joomla.org/JDOC:Joomla_4_Tutorials_Project
How can I help Joomla 4 development?
To help ensure the 4.0 release and our major features are "production-ready", we need you! Test the releases and report any bugs you may find at issues.joomla.org.
To make the life of testers (and early adopters) easier, updating is possible from the Beta version to the next Beta, RC or stable version (we will remain strict in updating the deleted files and modifying the SQL changes).
As previously stated, we're focusing on Joomla 4 to get it released as soon as possible. Therefore, we do not plan to release more 3.x minor versions, except for 3.10.
All feature proposals should be directed toward the 4.1 release.
A huge Thank You to our volunteers!
This Beta and Alpha release is the result of thousands of hours of work by dozens of volunteers.
A big thank you goes out to everyone who has contributed to the 4.0 Beta and the 3.10 Alpha release.
Translations