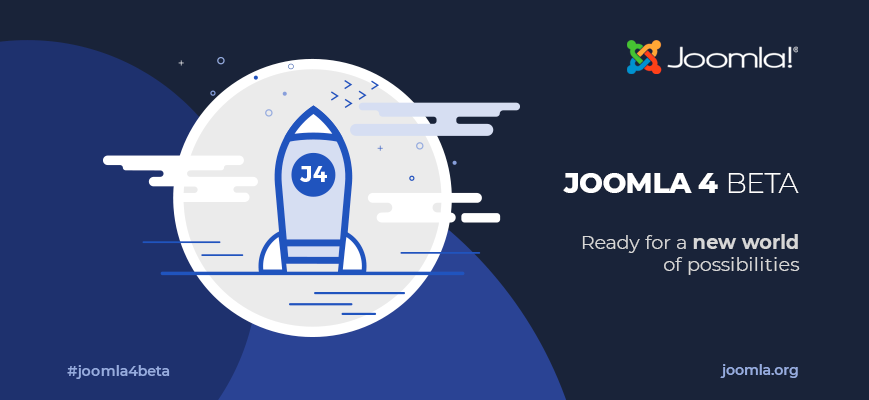 The Joomla Project is pleased to announce the availability of the Joomla 4.0 Beta 2 release.
We believe we can improve on what is already a great product.
Introducing Joomla 4, a brand new way for people to create and manage their content, developed and sustained by a global community of volunteers. Joomla 4 offers you a platform that is reliable, steady, secure and fully equipped with a wide variety of options to build any website.
We invite you to download, install and test the package to improve quality assurance for the forthcoming 4.0 release and to discover the new features introduced in this major release.
What's new in Joomla 4.0?
We are genuinely committed to making the next generation of Joomla the best Joomla ever. Joomla 4 will provide simplicity and a better user experience while also being a more robust system for developers.
Take a look at this shortlist of Joomla 4.0 key features and benefits:
Install Joomla in the blink of an eye: An easier, faster and more user-friendly install process
Brand new User Interfaces: (backend and frontend): intuitive and logical, easy to understand and use
Joomla is people first: We aim to ensure that the templates are accessible (Level AA of WCAG 2.1)
A fully rebuilt Media Manager: With a clear and logical User Interface and built-in image editing options.
A new Workflow: Manage your content in an advanced and customisable way.
Web Services: Make your content accessible to other websites and for easy mobile app creation.
Cast-iron security features: Features like support for prepared SQL statements, so your website stays safe and secure.
HTML Mail Templates: Customisation of the emails, sending emails from your site has never been so easy!
Improved and expanded Command Line Interface (CLI): For smooth integration of your components
A cleaner and more powerful codebase: The code has been cleaned up thoroughly, all Joomla 3.x deprecated functions have been removed, and we use PHP namespaces, enabling developers to deliver more robust and innovative applications than ever before
The power of the Joomla Framework merged into the CMS.
An enhanced event dispatching system
And much more!
Do you want to try Joomla 4.0 Beta without migrating one of your sites? Test it directly at launch.joomla.org
What is the difference between Beta 1 and Beta 2?
Joomla 4 Beta 2 contains over 200 bug fixes since beta 1. We'd like to draw users attention to the following issues:
Fix to prevent the global timezone changing after use of JDate class (#29270)
Add b/c break in the filter package to remove blacklist/whitelist terminology in line with a large amount left of the PHP ecosystem. More information »
We invite you to test this version and will be very grateful to receive all feedback you can provide, in addition to reporting issues and bugs in the Joomla CMS Issue Tracker.
We especially want to extend this invitation to all Joomla extension and template developers, your products contribute to one of Joomla's key features, its extensibility. This release is the perfect moment to start working on getting extensions and templates ready for the stable version of Joomla 4.0.
For a complete list of known backward compatibility issues for version 4.0, please see Potential backward compatibility issues in Joomla 4.0 in the documentation site.

When is the stable release due?
The launch of this beta version opens a period with a timeline depending on the feedback we have from developers and users. Join us in testing and reporting to help ensure a solid, timely delivery. Do you want to help out? Great! Below you'll find more information about what you can do.
At the same time as the stable version of Joomla 4, we will release Joomla 3.10, which is intended to be a bridge between the two major series. It will primarily be a release containing backports of API changes from the Joomla 4.0 development branch to help ease the transition to the next major release for the community.
The most up-to-date information regarding this timeline can be found in our project roadmap.
Where can I find documentation about Joomla 4?
We have started to provide some tutorials to help you with Joomla 4. We'll be writing more tutorials to help you understand the significant changes in Joomla 4. You can find the existing ones, like how to create a Plugin or a Module for Joomla 4, namespaces conventions, prepared statements, using the new web asset classes and many more here.
We encourage developers to help in writing the documentation about Joomla 4 on docs.joomla.org to help and guide users as well as other extension developers.
A JDocs page will help developers to see the existing documentation and the documentation that still needs to be written. We invite you to check it regularly, update it and provide the missing content: https://docs.joomla.org/JDOC:Joomla_4_Tutorials_Project
How can I help Joomla 4 development?
To help ensure the 4.0 release and our major features are "production-ready", we need your help testing releases and reporting any bugs you may find at issues.joomla.org.
To make the life of testers (and early adopters) easier, it is possible to update from the Beta version to the next Beta, RC or stable version (we will remain strict in updating the deleted files and modifying the SQL changes).
As previously stated, we're focusing on Joomla 4 to get it released as soon as possible. Therefore, we do not plan to release anymore 3.x minor versions, except 3.10.
All feature proposals should be directed toward the 4.1 release.
A huge Thank You to our volunteers!
This Beta release is the result of thousands of hours of work by dozens of volunteers.
A big thank you goes out to everyone who has contributed to the 4.0 Beta release.
Translations