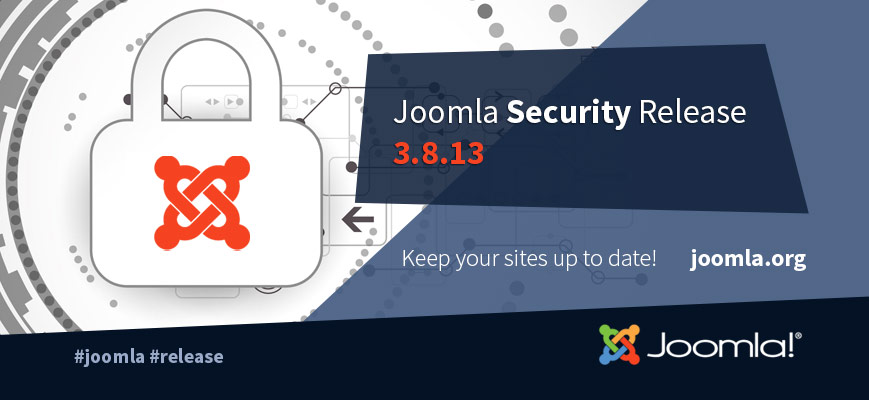 Joomla 3.8.13 is now available. This is a security release for the 3.x series of Joomla which addresses 5 security vulnerabilities.
What's in 3.8.13?
Joomla 3.8.13 includes 5 security vulnerability fixes:
Please see the documentation wiki for the security notes about this release.
Why a 3.8.13 release?
Joomla 3.9, The Privacy Tool Suite by Joomla, is coming soon.
In order to give time to our users to upgrade from 3.8.x to 3.9.0 so that they can test their 3rd party extensions, we decided to fix these security vulnerabilities in a dedicated release before 3.9.0.
We invite our users to update as soon as possible their web sites to Joomla 3.8.13.
Download
Make the next Joomla release even better
Joomla 3.9 is coming really soon. If you would like to help improve them you can make a direct difference!
You can find more information about this release on the Developer site, and the list of improvements, new features and bug fixes on GitHub.
We invite you to download and test Joomla 3.9 Beta on the nightly build page or to install it in a glance at launch.joomla.org (for testing purposes only - do not use on production sites).
You can also help with Joomla 3.9 documentation.
Help the Joomla 3.9 Marketing team!
The copywriting for the forthcoming Joomla 3.9 landing page is available for translation at Crowdin. Make a gift to your local community by translating the site in your language!
We have also a wide range of "coming soon" imagery you can share and translate, which can be found here.
We would love you to spread the Joomla love and get the word out to your network.
Stay updated on the latest project news and important announcements by subscribing to the Joomla Newsletter as well as the Developer Newsletter.