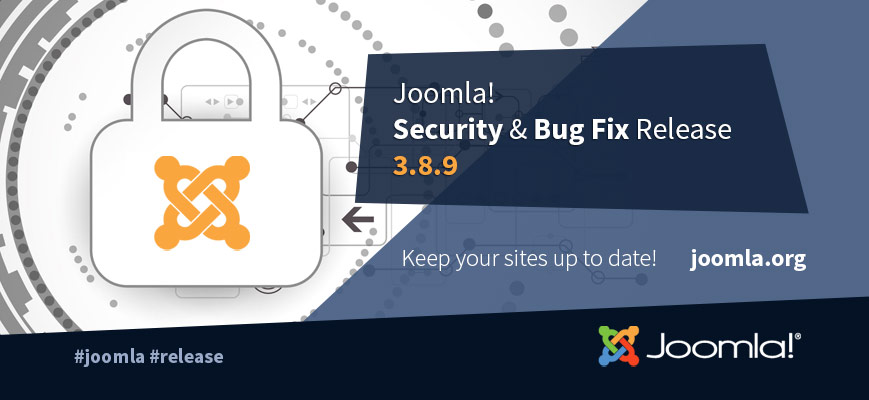 Joomla 3.8.9 is now available. This is a security release which addresses 2 security vulnerabilities and contains over 50 bug fixes and improvements.
What's in 3.8.9?
Joomla 3.8.9 addresses two security vulnerabilities and several bugs, including the fatal error in the random image module, the error on uploading images in child folder, and several other bugs and improvements, including:
Security Issues Fixed
Bug fixes and Improvements
Visit GitHub for the full list of bug fixes.
Download
A Huge Thank You to Our Volunteers!
A big thank you goes out to everyone that contributed to the 3.8 releases!
Make the next Joomla release even better
Joomla 3.9, 3.10 and 4.0 are in the works. If you would like to help improve them you can make a direct difference! You can find more information about these releases on GitHub:
We invite you to download these upcoming releases on the nightly build page (for testing purposes only - do not use on production sites).
Join the Joomla Volunteer Community and contribute your skills and time to help Joomla grow even more:
Stay updated on the latest project news and important announcements by subscribing to the Joomla Newsletter as well as the Developer Newsletter.
Spread the Joomla Love
Has Joomla helped you do your job better, saved you money, allowed you to do more with your website? You can help others experience the same results and find out about this great Open Source Content Management System by telling others.
Share the news!
Don't forget to visit the Joomla 3.8 Landing Page to get an overview of the new features, download our wide range of imagery available for sharing in blog posts, via social media, or in banners on your site. They can be found on the Joomla 3.8 Imagery page. And if you want to translate them, you can find the source files here.
We would love you to spread the Joomla love and get the word out to your network.
Are you a journalist, blogger or evangelist?
Please feel free to get in touch with the This email address is being protected from spambots. You need JavaScript enabled to view it. for interviews and other content.