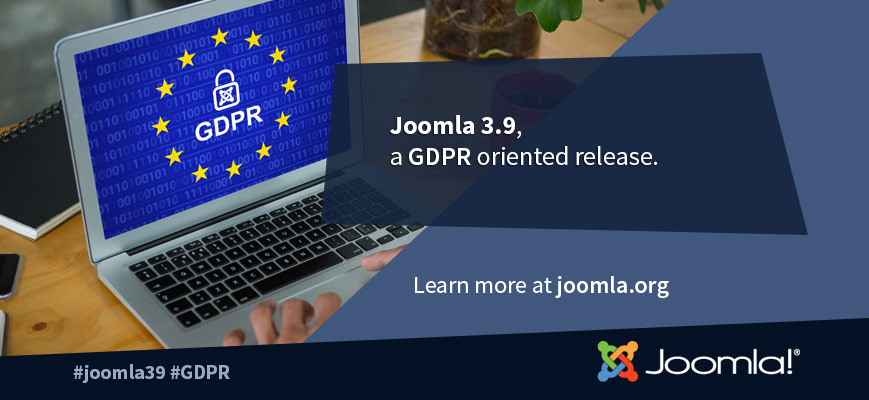 As you most probably know, the General Data Protection Regulation (GDPR) will enter into force on 25 May, 2018.
Joomla, listening to its users, intends to integrate a Privacy Tool Suite in the Joomla CMS to facilitate the compliance of your sites and to make developers' life easier to get their extensions compliant.
What would include this Privacy tool suite?
We have a plan!
We intend to add the following privacy tools to Joomla 3.9:
Provide an API for extension developers so they can report the data they collect and this info can be displayed in the new com_privacy extension (Core API Project Board)
Gain the consent of the registered users (form plugin), track their consent, log their activities, and take care about the consent retention time (Consent Project Board)
Facilitate your workflow related to your user requests (Information Requests Project Board):

Make it easier to the users to submit information requests
Track the status of the users requests
Let the user access and download their data.
You can find more information about these tools in the Privacy Framework repository.
Note: Due to the short timeline for this release and its purpose, we would like to inform you that only policy related features will be merged to 3.9. Pull Requests which have been previously merged to the existing 3.9 branch (now the 3.10 release) will be evaluated for inclusion in this release as well.
If you want to propose a new feature for Joomla, we invite you to do it toward the Joomla 4 branch.
How can you help?
Joomla needs your help!
We invite you to join the dedicated repository to help in making this release a success for the project.
We are looking for coders to write code, testers to provide quality assurance for the release, copywriters to write the feature documentation .
What is the timeline?
At the moment we have not committed to a firm timeline, however we are working as quickly as possible to complete all required work to make a release.
As always, this timeline is subject to change based on a variety of issues and concerns. We will of course keep you informed with the timeline.  
Why a 3.9 release?
According to our development strategy you can see here, an addition of new features implies the release of a new minor version. Accordingly, we have to change our initial plan and release Joomla 3.9 earlier.
3.10 as the last release of the 3.x series
As a reminder, Joomla 3.9 was intended to be the last release of the Joomla 3.x series and be a bridge between the 2 major series (Joomla 3.x and Joomla 4.x).
Due to the GDPR, hence the change of purpose and the release ahead of schedule of Joomla 3.9, we will release a Joomla 3.10 minor version alongside with Joomla 4.0.
Joomla 3.10 will primarily be a release containing backports of API changes from the Joomla 4.0 development branch to help ease the transition to the next major release for the community.
Joomla 3.9 release will be lead by Michael Babker and Joomla 3.10 by George Wilson.
Don't forget you can download and test the upcoming versions on the nightly builds page.