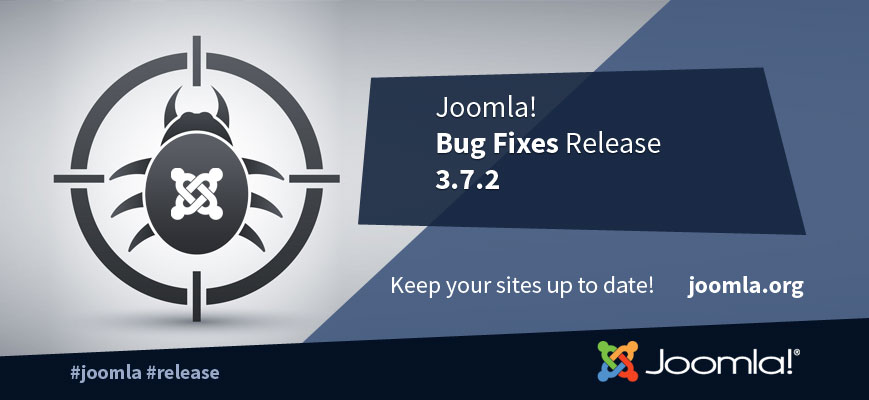 Joomla! 3.7.2 is now available. This is a bug fix release for the 3.x series of Joomla. This release fixes some bugs in file mime checks, module page filtering as well as some other bugs and several other minor improvements.
This release only contains bug fixes that were inadvertently introduced in recent version and is focused on stabilising the 3.7 series by rectifying them.
What's in 3.7.2?
Joomla! 3.7.2 fixes some issues found in Joomla! 3.7.1 as well as introducing some improvements.
Bug Fixes
Please see the documentation wiki for FAQ's regarding the 3.7.2 release.
Download
How can you help Joomla! development?
There are a variety of ways in which you can get actively involved with Joomla. It doesn't matter if you are a coder, an integrator, or a user of Joomla. You can contact anyone in the Production Department, to get more information, or if you are ready you can jump right into the Joomla! Bug Squad.
The Joomla! Bug Squad is always looking for people (not just developers) that can help with sorting bug reports, coding patches and testing solutions. It's a great way for increasing your working knowledge of Joomla, and also a great way to meet new people from all around the world. If you are interested, please read about us on the Joomla! Documentation Wiki and, if you wish to join, email The Bug Squad Coordinator.
You can also help Joomla! development by thanking those involved in the many areas of the process.
A Huge Thank You to Our Volunteers!
A big thank you goes out to everyone that contributed to the 3.7.2 release.
Spread the Joomla! Love
Has Joomla! helped you do your job better, saved you money, allowed you to do more with your web site? You can help others experience the same results and find out about this great Open Source Content Management System by telling others.
Share the news!
Don't forget to visit the Joomla! 3.7 Landing Page to get an overview of the new features, to download our wide range of imagery, publicly available at Joomla 3.7 Imagery page. You can also find the Joomla! 3.7 video on our YouTube channel, already available in 30 languages.
We would love you to spread the Joomla! love and get the word out to your network.
Are you a journalist, blogger or evangelist?
Please feel free to get in touch with the This email address is being protected from spambots. You need JavaScript enabled to view it. for interviews and other content.
Make the next Joomla! release even better
Joomla! 3.8, 3.9 and 4.0 are already in the works. If you would like to help improve them you can make a direct difference. Join the Joomla! Volunteer community and contribute your skills and time to help Joomla! grow even more.