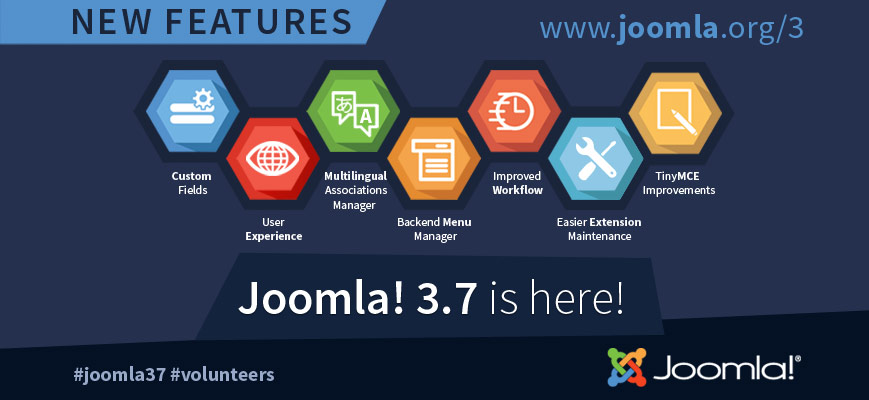 The Joomla! Project is proud to announce the release of Joomla! 3.7, the latest in the 'Joomla! 3' series. This new release features over 700 improvements to the popular CMS, including many features which make administration of Joomla! Web sites easier and more feature-rich, as well as several security updates.
One of the biggest new features of this release is the ability for administrators to add Custom Fields to articles, users, and contacts, and extension developers to use this feature within their own custom Joomla! extensions. With 15 different field types you can now easily structure more complex content entry forms allowing your content authors to easily enter their data in a standard manner whilst displaying it consistently to your site visitors. Thanks to our great documentation volunteers, you can find out all about the options and processes for using this new feature by reading the Custom Fields tutorial on the Joomla! Documentation site.
For those who need to create multilingual sites, the process to translate your content just got significantly easier. The Multilingual Associations Component allows you to easily translate your content from one single, unified interface. You can find out more by reading the Multilingual Associations Component tutorial on the Joomla! Documentation site.
Anyone creating new content articles that require a new menu item can now save time with the new Improved Workflow features. You can now create a category, article, and menu item in one step from within the menu manager.
Another added menu-related benefit, for those sites where different levels of user access the Backend/Administrator area of the site is the ability to customise the admin menu with the new Backend Menu Manager. Now you can create custom menus for the Backend just like you can for the Frontend - allowing you to control what users can see which admin menu options.
This release also brings a number of new and enhanced features specifically for developers. Joomla! 3.7 brings improvements within the update, caching and package/extension management systems, as well as a host of other under the hood advances.
Joomla! 3.7 is the eighth and latest release in the 3.x series. Please note that going from 3.6.x to 3.7 is a one-click update and is not a migration. The same is true for any subsequent versions in the 3 series of the CMS.
In addition to the features mentioned above, other significant highlights of the 3.7 release include:
Do more with TinyMCE - Including new buttons to easily add menu links and contacts and many other improvements
Easier Extension Maintenance - Prevent administrators from accidentally uninstalling needed extension package elements
User Experience - Your User Experience is improved thanks to the display of your global settings, a flatter backend template, the possibility to share your session between frontend and backend and a number of other minor UX improvements.
To view a full list of the features please visit our 3.7 site (now available in over 25 languages).
Security Issues Fixed
Is your website ready for Joomla! 3.7?
Joomla! 3.7 is a one-click update just like previous 3.x versions. If your site is not already running 3.6.5, we strongly urge you to update immediately. Joomla! 3.6.5 was a security release and your site is at risk if you are running a previous version. If you presently have a 3.6.4 (or earlier) version of Joomla, please review the update category on the Joomla! Documentation.
As always, before upgrading it is important to update all of your third party extensions and also to take and test a full backup of your site.
This is also a great time to connect with your hosting company and check your PHP and database versions. We recommend upgrading to PHP 7 or 7.1 as it will bring a considerable speed boost to your site. Further system requirements can be found on the technical requirements page.
Also, if you are using the Hathor backend template you should switch to the Isis template as your administrative template. The Hathor template is being deprecated and may not provide you with the ability to use all the latest features in Joomla! 3.7.
Download
A Huge Thank You to Our Volunteers!
A big thank you goes out to everyone that contributed to the 3.7 release! Over 1600 commits have been made since Joomla! 3.6.5 was released in 2016. Find a list of developers who helped out on the Thank You page. A huge thank you also goes out to the 3.7 marketing, imagery and translation teams! You can find their names also on the Thank You page.
Spread the Joomla! Love
Has Joomla! helped you do your job better, saved you money, allowed you to do more with your web site? You can help others experience the same results and find out about this great Open Source Content Management System by telling others.
Share the news!
We have a wide range of imagery available for sharing in blogposts, via social media, or in banners on your site. They can be found on the Joomla 3.7 Imagery page. You can also find the Joomla! 3.7 video on our YouTube channel, already available in 30 languages. We would love you to spread the Joomla! love and get the word out to your network.
Are you a journalist, blogger or evangelist?
Please feel free to get in touch with the This email address is being protected from spambots. You need JavaScript enabled to view it. for interviews and other content.
Do you have marketing skills?
Get involved in the Joomla! Marketing Team by connecting via the Marketing Team page on the Joomla! Volunteers Portal.
Make the next Joomla! release even better
Joomla! 3.8, 3.9 and 4.0 are already in the works. If you would like to help improve them you can make a direct difference. Join the Joomla! Volunteer community and contribute your skills and time to help Joomla! grow even more.