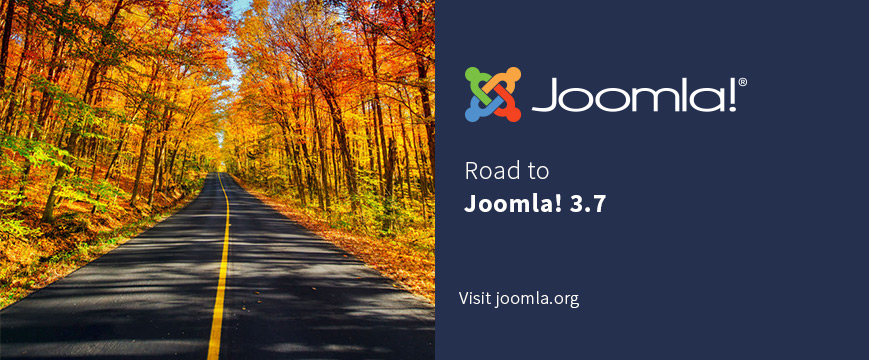 Over the last weeks we have sent mixed messages about Joomla! 3.7 and what will be included in the final version. Without having an alpha/beta version published this is always complicated but with this post we are trying to clear the air.
Let us start with an organizational change, because of personal reasons we had to change the release lead for 3.7 and we have set Robert Deutz (CMS maintainer and former PLT member) as the 3.7 Release Lead. He will work closely with PLT and the other teams to get 3.7 out of the door.
We have also set up a schedule for the release, as always this depends on availability of volunteers and the support of the community but the plan is not so challenging so we believe it is achievable.
| | |
| --- | --- |
| Alpha 1: | 20th December 2016 |
| Alpha 2: | 10th January 2017 |
| Beta 1: | 24th January 2017 |
| Beta 2: | 7th February 2017 |
| Release Candidate 1: | 21st February 2017 |
| Release Candidate 2: | 7th March 2017 |
| Release Candidate 3: | 14th March 2017 |
| Release Candidate 4: | 21st March 2017 |
| Stable Release: | 28th March 2017 |
As you can see we are starting a bit slowly but increasing the speed over the process. If you are an extension/template developer you should reserve some time at the beginning of March 2017 to test your extensions/templates.
Last but not least, what are the new features we are planning to ship with 3.7? As it looks now there will be three big features beside a lot of minor improvements:
Routing, finally we will have the possibility to use a new routing strategy. It will be an option and you can enable it per component, so you can mix the old and new strategy. If you are using an old extension that does not support the new routing then everything will still work as before.
Custom fields, this is now merged into the staging branch (that's the branch of Joomla! we are normally using for development) and we are working on bugs and the final integration. There are also some architectural problems to solve but it looks quite good and we are not facing any really big problems.
Associations Manager, this is a Google Summer of Code project we are planning to merge soon. Here we have also an architectural problems to solve, but we know how and we only need some time to do the coding.
Beside these bigger changes we have visually updated the backend template, improved the usability and as already said a lot of minor enhancements.
Please follow the development on Github at https://github.com/joomla/joomla-cms and if you have time to test a feature please do it. The more people testing the better will be the quality of 3.7.0 on release day.