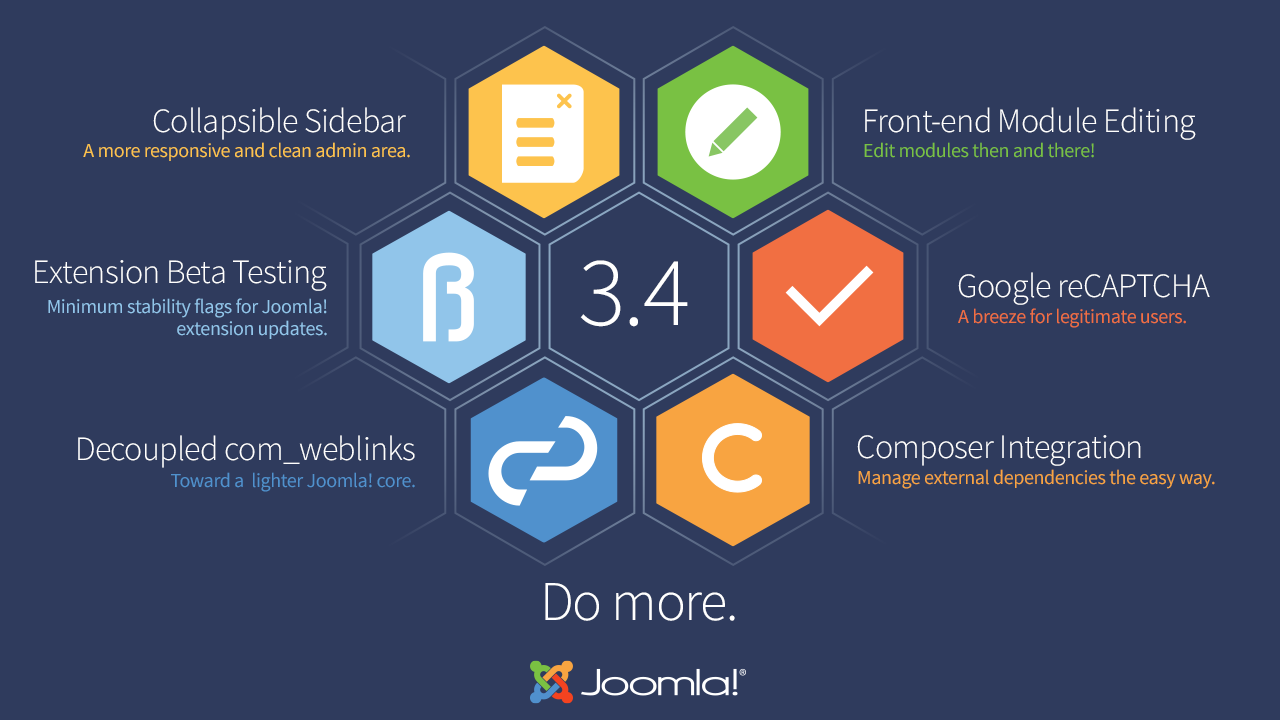 The Joomla! Project and the Production Leadership Team are proud to announce the release of Joomla! 3.4.0 latest releases of the 3.x release series.
What's in 3.4?
The 3.4 release introduces new features into the CMS such as improved front end module editing, decoupling of weblinks, composer integration, Google new reCaptcha and security improvements by implementing UploadShield code which can detect most malicious uploads by examining their filenames and file contents. Please note: Due to technical reasons we have had to disable the Install from Web Service. We are working to get it back online as soon as possible. To find extensions please use the Joomla! Extensions Directory.
Thanks to the hard work of over 130 different volunteer contributors, over 700 bugs have also been resolved with the 3.4 release of the Joomla! CMS. See the list of fixed GitHub issues for details of the tracker items fixed.
For known issues with the 3.4.0 release, see the Version 3.4.0 FAQ in the documentation site.
The Production Leadership Team's goal is to continue to provide regular, frequent updates to the Joomla community. Learn more about Joomla! development at the Joomla! Developer Network.
Download
New installation instructions and technical requirements
Note: Please read the update instructions before updating.
Please remember to clear your browser's cache after upgrading.
What is the status of Joomla! CMS 2.5?
As of December 31, 2014 the Joomla! 2.5 release cycle has reached end of official support.
What this means is that security updates and bug fixes will no longer be provided by the Joomla! Project for the 2.5 series. While the community may or may not provide patches for 2.5 into the future, nothing official will be released for the 2.5 life cycle. You can read the full announcements here.
How can you help Joomla! development?
There are a variety of ways in which you can get actively involved with Joomla! It doesn't matter if you are a coder, an integrator, or merely a user of Joomla!. You can contact the Joomla! Community Development Manager, This email address is being protected from spambots. You need JavaScript enabled to view it., to get more information, or if you are ready you can jump right into the Joomla! Bug Squad.
The Joomla! Bug Squad is one of the most active teams in the Joomla! development process and is always looking for people (not just developers) that can help with sorting bug reports, coding patches and testing solutions. It's a great way for increasing your working knowledge of Joomla!, and also a great way to meet new people from all around the world.
If you are interested, please read about us on the Joomla! Documentation Wiki and, if you wish to join, email This email address is being protected from spambots. You need JavaScript enabled to view it., our Bug Squad coordinator.
You can also help Joomla! development by thanking those involved in the many areas of the process. In the past year, for example, over 1,000 bugs have been fixed by the Bug Squad.
The project also wants to thank all of the contributors who have taken the time to prepare and submit work to be included in the Joomla! CMS and Framework.
A Huge Thank You to Our Volunteers!
A big thank you goes out to everyone that contributed to the 3.4 release! Over 2,060 commits have been made since 3.3.6's release last October. Best of all is that the new features are awesome!
Contributors
Thank you to the code contributors and active Bug Squad members that created and tested this release: Evgenij Kumanin, waveywhite, waader, vzenix, thongredweb, sovainfo, shur, sebek, rakesh, pwork02, nibra, modernmagic, maxvalentini77, echatpotte, kshitij sharma, kochinc, jowi, jo-sf, illovo, garima-agal, demis-palma, dandpclements, clubnite, chillcreations, bembelimen, bassmanpaul, b92, acyba, Wolfgang Naber, Vo Hoang Dang Khoa, Viktor Vogel, Victor Escobar, Victor Drover, Valentin Despa, Tuan Pham Ngoc, Troy T. Hall, Tran Duy Hung, Tobias Zulauf, Tito Alvarez, Tino Brackebusch, Tim, Thomas Hunziker, Søren Beck Jensen, Sophist, Simon Asika, Seth Warburton, Sergio Manzi, Saurabh Shah, Sarah Watz, Sander Potjer, Samuel Mehrbrodt, Ryan Boog, Ruth Cheesley, Roland Dalmulder, Roberto Segura, Robert Deutz, Richard Fath, Reinhard Hiebl, Puneet Kala, Prasoon Shukla, Piotr Moćko, Piotr Konieczny, Phil Taylor, Peter van Westen, Peter Martin, Peter Lose, Paul Holmes, Patrick Morris, Nicola Galgano, Nick Savov, Nicholas Dionysopoulos, Nadeeshaan Gunasinghe, Mihail Irintchev, Michael Babker, Matt Thomas, Matias Griese, Marko D, Marco Dings, Marc-Antoine, Manoj L, Leo Lammerink, Lars Grefer, Konstantin, Julien Brouns, Jerome, Jelle Kok, Jean-Marie Simonet, Jean-Luc Subri, Jaz, Javier Gomez, Jan Prokes, Humorlos, Hoffi1, Hilary Cheyne, Herman Peeren, Hans Kuijpers, Hannes Papenberg, Gunjan Patel, George Wilson, Fedik, Eric Fernance, Elijah Madden, Drew Garrett, Dmitry Rekun, Dimitris Grammatiko, Denitz, Davide, David Jardin, David Beuving, Daniele Rosario, Cyril Rezé, Craig Phillips, Constantin Romankiewicz, Christelle, Chris Davenport, Charlie Lodder, Buddhima, Bruno Batista, Brian Teeman, Bradley Weston, Bernard Saulme, Ashan Fernando, Arunas Mazeika, Artur Stępień, Arkadiy, Andy Gaskell, Alonzo Turner, Alex, Abhishek Das, Aasim Ali
Joomla! Bug Squad
Thank you to the Joomla! Bug Squad for their dedicated efforts investigating reports, fixing problems, and applying patches to Joomla. If you find a bug in Joomla!, please report it on the Joomla! Issue Tracker.
Active members of the Joomla! Bug Squad during past 3 months include: Achal Aggarwal, Adam Przybylski, Alexandru Pruteanu, Andrea Zagli, Andrew Nester, Anibal Sanchez, Ben Charlton, Ben Griffin, Benjamin Trenkle, Brad Markle, Brian Teeman, Chris Davenport, Christiane Maier-Stadtherr, Constantin Romankiewicz, Cyril Rezé, Dan Walker, Daniel Dimitrov, David Jardin, Demis Palma, Denise McLaurin, Dennis Hermacki, Dimitris Grammatikos, Edwin Cheront, Elijah Madden, Fedik Zinchuk, Gary Mort, George Wilson, Hannes Papenberg, Hugo Avila, Itamar Elharar, Jean-Marie Simonet, Jurian Even, Kevin Griffiths, Leo Lammerink, Lara Petersen, Marc Antoine Thevenet, Marco Richter, Marko Đedović, Matias Aguirre, Matt Thomas, Michael Babker, Mohamed Infaz, Nikolai Plath, Peter Lose, Peter Martin, Peter van Westen, Peter Wiseman, Piotr Mocko, Robert Deutz, Robert Gastaud, Roberto Segura, Roland Dalmulder, Sander Potjer, Stefania Gaianigo, Thomas Hunziker, Tino Brackebusch, Tobias Zulauf, Todor Iliev, Toivo Talikka, Valentin Despa, Viktor Vogel.
Bug Squad Leadership: Roland Dalmulder, Coordinator.
Joomla! Security Strike Team
A big thanks to the Joomla! Security Strike Team for their ongoing work to keep Joomla! secure. Members include: Airton Torres, Alan Langford, Beat, Claire Mandville, David Hurley, Don Gilbert, Jason Kendall, Javier Gomez, Jean-Marie Simonet, Marijke Stuivenberg, Mark Boos, Matias Griese, Michael Babker, Nick Savov, Pushapraj Sharma, Roberto Segura, Rouven Weßling, Thomas Hunziker.