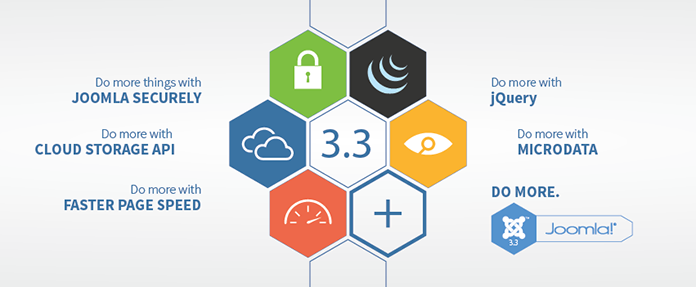 The Joomla! Project is pleased to announce the availability of the Joomla! 3.3 Release Candidate. Community members are asked to download and install the package in order to provide quality assurance for the forthcoming 3.3 release, which is scheduled for release on or around April 30th, 2014.
A big thank you goes out to everyone that contributed to the 3.3 release! Joomla! 3.3 will be our most stable release ever. Right now we're at about 395 commits since 3.2.3's release with 44 different people contributing to those commits (not including testers and other non-coding activities). Best of all is that the new features are awesome!
The 3.x release series is the latest major release of the Joomla! CMS, with 3.3 the fourth release in this series. Please note that going from 3.2 to 3.3 is a one-click upgrade and is NOT a migration. The same is true is for any subsequent versions in the 3.x series. That being said, please do not upgrade any of your production sites to the release candidate as it is ONLY intended for testing.
What is this release for?
This is a release candidate that should only be used on test sites.
Extension developers are encouraged to work with this release in order to prepare extensions for the General Availability release of Joomla! 3.3, though there shouldn't be any backward compatibility issues. Users are encouraged to test the package for issues and to report issues in the Joomla! CMS Issue Tracker. Please do not upgrade any of your production sites to the release candidate and do not start a new site on this release as it is ONLY intended for testing.
When is the final release due?
Joomla! 3.3 (general availability) is due to be released on or around April 30, 2014.
Please note that dates may be subject to change depending on availability of volunteers and circumstances beyond our control.
Which bugs have been fixed in Joomla! 3.3?
Thanks to the hard work of JBS and other volunteers, there have been over 110 tracker items closed since the 3.2.3 release, which includes the new features. See developer.joomla.org/version-3-3-0-release-notes.html for details of the tracker items fixed. For known issues with the 3.3 beta series, see the Version 3.3 Beta FAQ on the documentation site.
What's new in Joomla! 3.3
Below are slides presented at JoomlaDay Boston and JoomlaDay Atlanta covering the 3.3 release.
The final features for the 3.3 release, including security enhancements and microdata implementation, are detailed in this blog post.
What is the status of Joomla! 2.5?
Joomla! 2.5 is a Long Term Support release and support for it will continue until December 31st, 2014. 2.5 users do not need to migrate to the 3.x series at this time.
Security Support for 3.2
The PLT is planning to release 3.2.4 on April 30, 2014, the same day as 3.3.0. For this release, the PLT plans to include all of the bug fixes committed after 3.2.3 into this release, enabling 3.2 users to have the most stable code base we can offer them during the extended support period.
As previously announced, 3.2 will receive extended security support through October 2014 for users on hosts who do not meet the minimum required PHP version of 5.3.10. During the extended support period users can expect:
Security releases for 3.2 as needed
Continued support for 2.5
Continued support for 3.3
Users who are unable to update to 3.3 due to the new PHP requirements are able to use the one click-click update system to continue receiving 3.2 updates as released and will be able to update to 3.3 once they update to PHP 5.3.10.
How can you help Joomla! development?
There are a variety of ways in which you can get actively involved with Joomla! It doesn't matter if you are a coder, an integrator, or merely a user of Joomla!. You can contact the Joomla! Community Development Manager, David Hurley, to get more information, or if you are ready you can jump right into the Joomla! Bug Squad.
The Joomla! Bug Squad is one of the most active teams in the CMS development process and is always looking for people (not just developers) that can help with sorting bug reports, coding patches and testing solutions. It's a great way for increasing your working knowledge of the Joomla! code base, and also a great way to meet new people from all around the world.
If you are interested, please read about us on the Joomla! Wiki and, if you wish to join, email Mark Dexter or Nick Savov, our Bug Squad co-coordinators.
You can also help Joomla! development by thanking those involved in the many areas of the process. In the past year, for example, over 1,000 bugs have been fixed by the Bug Squad.
The project also wants to thank all of the contributors who have taken the time to prepare and submit work to be included in the Joomla! CMS and Framework.
A Huge Thank You to Our Volunteers!
This beta release is the result of thousands of hours of work by dozens of volunteers. Thank you so very much for making the Joomla! CMS the best CMS on the planet!