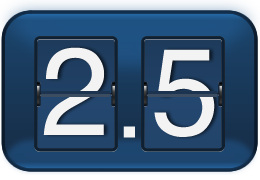 The Joomla! Project is pleased to announce the immediate availability of Joomla 2.5.17.
Joomla 2.5.17 is a maintenance release. Most notably this release fixes errors that have been reported including:
Registration emails in multilingual websites
The 2.5.14 to 2.5.16 update errors
Recaptcha function updated after Google's API update causing broken captcha
The update process is very simple, and complete instructions are available here. Note that there are now easier and better ways of updating than copying the files with FTP.
Download
Note: Please read the update instructions before updating.
Instructions
*Please clear your browser's cache after upgrading
Want to test drive Joomla? Try the online demo. Documentation is available for beginners.
Release Notes
Check the Joomla 2.5.17 Post-Release FAQs to see if there are important items and helpful hints discovered after the release.
Statistics for the 2.5.17 release period
How can you help Joomla! development?
There are a variety of ways in which you can get actively involved with Joomla! It doesn't matter if you are a coder, an integrator, or merely a user of Joomla!. You can contact the Joomla! Community Development Manager, David Hurley, to get more information, or if you are ready you can jump right into the Joomla! Bug Squad.
The Joomla! Bug Squad is one of the most active teams in the Joomla! development process and is always looking for people (not just developers) that can help with sorting bug reports, coding patches and testing solutions. It's a great way for increasing your working knowledge of Joomla!, and also a great way to meet new people from all around the world.
If you are interested, please read about us on the Joomla! Documentation Wiki and, if you wish to join, email Mark Dexter or Nick Savov, our Bug Squad co-coordinators.
You can also help Joomla! development by thanking those involved in the many areas of the process. In the past year, for example, over 1,150 bugs have been fixed by the Bug Squad.
Contributors
Thank you to the code contributors and active Bug Squad members that created and tested this release:
Achal Aggarwal, Alan Hicks, Amy Stephen, Anderson Martins, Andy Kirk, Artur Stępień", Ashan Fernando, Beat, Brian Teeman, Bruno Batista, Buddhima Wijeweera, Carlos pt, Chris Davenport, Christelle Olivier, Daniel Dimitrov, Daniele Rosario, David Beuving, David Hurley, David Jardin, Demis Palma, Dennis Hermacki, Don Gilbert, Elijah Madden, Elin Waring, Florian Dal Fitto, Gaurav Jain, George Wilson, Gunjan Patel, Hannes Papenberg, Isabelle Eff, Javier Gómez, Jérôme Glatigny, Jean-Marie Simonet, Jelle Kok, Jisse Reitsma, Jozsef Tamas Herczeg, Jurian Even, Kevin Griffiths, Klas Berlič, Lao Neo, Leo Lammerink, Marc Antoine Thevenet, Marcel van Beelen, Marijke Stuivenberg, Mario Proenca, Mark Dexter, Marko Đedović, Matt Thomas, Michael Babker, Mohammad Hasani Eghtedar, Nicholas Dionysopoulos, Nikolai Plath, Ofer Cohen, Panayiotis Halouvas, Patrick Kohl, Peter Bui, Peter Martin, Peter van Westen, Phương Lê, Piotr Cz, Rafael Logvinski, Ray Lawlor, Robert Gastaud, Robert Gregor, Roberto Segura, Simon Asika, Stefania Gaianigo, Steve Binkowski, Thomas Hunziker, Tobias Zulauf, Tom Hutchison, Valentin Despa, Viet Vu, Vitalij Lokucijevskij.
Joomla! Bug Squad
Thank you to the Joomla! Bug Squad for their dedicated efforts investigating reports, fixing problems, and applying patches to Joomla. If you find a bug in Joomla!, please report it on the Joomla! CMS Issue Tracker.
Active members of the Joomla! Bug Squad during past 3 months include: Achal Aggarwal, Adelene Teh, Aleksander Linkov, Angelika Reisiger, Anibal Sanchez, Anja Hage, Artur Alves, Ashan Fernando, Beat , Brian Teeman, Chad Windnagle, Constantin Romankiewicz, Daniel Kanchev, David Hurley, Dennis Hermacki, Dimitar Genchev, Duong Nguyen, Edwin Cheront, Elin Waring, George Wilson, Gunjan Patel, Hans Kuijpers, Hervé Boinnard, Hugh Messenger, Janich Rasmussen, Jason Rey, Jérôme GLATIGNY, Jean-Marie Simonet, Jern Wei Tan, Jerri Christiansen, Jozsef Tamas Herczeg, Khai Vu Dinh, klas 10, landor landor, Lao Neo, Lara Petersen, Le Van Thuyet, Leo Lammerink, Loc Le Minh, Lu Nguyen, Marc Antoine Thevenet, Marijke Stuivenberg, Mario Proenca, Mark Dexter, Mark Lee, Matias Aguirre, Michael Babker, Mihail Irintchev, Mike Biolsi, Mike Veeckmans, Nha Bui, Nicholas Dionysopoulos, Nick Savov, Nik Faris Akmal, Ofer Cohen, Olaf Offick, Patrick Alt, Peter Martin, Peter van Westen, Peter Wiseman, Piotr Konieczny, Radek Suski, Richard McDaniel, Rob de Cleen, Robert Deutz, Robert Gastaud, Roberto Segura, Roland Dalmulder, Ronni Christiansen, Sam Teh, Sander Potjer, Sandra Thevenet, Sebastian Łuckoś›, Sergio Iglesias, Seth Warburton, Shafiq Mazlan, Stefania Gaianigo, Thomas Hunziker, Tino Brackebusch, TJ Baker, Tobias Zulauf, tompap, Troy Hall, Tu Diep The, Valentin Despa, Victor Drover, Viliam Kubis, Yiliang Yang.
Bug Squad Leadership: Mark Dexter and Nick Savov, Co-Coordinators.
Joomla! Security Strike Team
A big thanks to the Joomla! Security Strike Team for their ongoing work to keep Joomla! secure. Members include: Airton Torres, Alan Langford, Beat, Bill Richardson, Claire Mandville, David Hurley, Don Gilbert, Gary Brooks, Jason Kendall, Javier Gomez, Jean-Marie Simonet, Marijke Stuivenberg, Mark Boos, Mark Dexter, Matias Griese, Michael Babker, Nick Savov, Pushapraj Sharma, Rouven Weßling.