The Joomla Project is pleased to announce the immediate availability of Joomla 3.1.5. This is a security release addressing a critical level security issue. The Production Leadership Team's goal is to continue to provide regular, frequent updates to the Joomla community. Learn more about Joomla! development at the Developer Network.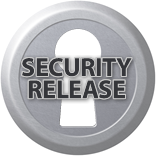 The update process is very simple, and complete instructions are available here. Note that there are now easier and better ways of updating than copying the files with FTP.
Joomla 1.5. is also impacted by this security issue. Additional information may be found at http://joomlacode.org/gf/project/joomla/tracker/?action=TrackerItemEdit&tracker_item_id=31626
Download
Note: Please read the instructions below.
Instructions
*Please be sure to clear your browser's cache after upgrading.
Want to test drive Joomla? Try the online demo. Documentation is available for beginners.
Please note that you should always backup your site before upgrading.
Release Notes
Check the Joomla 3.1.5 Post-Release FAQs to see if there are important items and helpful hints discovered after the release.
Statistics for the 3.1.5 release period
Joomla 3.1.5 contains:

1 security issue fixed
7 tracker issues fixed
Security issues fixed
See https://developer.joomla.org/version-3-1-5-release-notes.html for details of the tracker items fixed.
What are the new features of the Joomla! 3 series?
Incorporation of Twitter Bootstrap into a jui media package.
A new responsive administrator template --Isis-- and interface.
A new front end template --Protostar-- built using Twitter Bootstrap
Updated accessible template called Beez3
Tags (click here to see the recent blog post about it)
PostgreSQL Driver. You will be able to run Joomla 3.1 sites using the PostgreSQL database.
PHP Memcached Driver
Use of JFeed for feed management rather than SimplePie
Installation of language packages directly from the extension manager
Guest user group present by default
Saving blank articles allowed
New administrator statistics module
Update TinyMCE to version 3.5.6
Continued clean up of older unused code, files and database fields and tables and improved standardization of tables.
Improvements to Smart Search
Extensive work on code style standardisation and consistency
Unit testing in the CMS
Updated system tests in the CMS
Multilanguage: adding items associations in remaining core components.
Language Installation tool for the Joomla Installer.
Items associations in multi-language
Allow different update packages for different version dev levels
Added note form field
Show logs in debug console
Refactor installation to use new application and MVC classes
Added pagination in COM_SEARCH component
Added triggers on save for com_config
JPlugin autoloadLanguage property
Added SQL Server subclass for FinderIndexer
Media wiki package
OpenStreetMap package
UNION ALL feature
How can I update from Joomla! 3.0 to 3.1?
Joomla 3.0 to 3.1 is a one-click upgrade with backward compatibility and is NOT a migration. The same is true is for any subsequent versions in the Joomla 3 series. Thus, if you're running a Joomla 3.0 site, please one-click upgrade, within the Joomla! Update component, to Joomla 3.1 to get the new features and the latest bugs fixes.
Will I be able to update directly to Joomla! 3 from Joomla! 2.5?
Moving to Joomla 3.x from Joomla 2.5 will be a mini-migration not an upgrade, although for the core of Joomla! the migration should be simple. However, it is likely that templates for Joomla 2.5 will need modification to work with Joomla 3 as will many extensions. Always test prior to migrating and consult with the developers of any extensions and templates you use.
What is the status of Joomla! 2.5?
Version 2.5 of the Joomla! CMS is a Long Term Support release and support for it will continue until shortly after the release of Joomla 3.5 scheduled for Spring 2014. Joomla 2.5 users do not need to migrate to Joomla 3.1.
What is the status of Joomla! 1.5?
Support for Joomla 1.5 ended in April of 2012 and we continued to support it unofficially until the end of 2012 for medium to high priority security issues.
Does that mean your 1.5 site will suddenly stop working? No, your site will continue to work as it always has. However, Joomla's developers will not be releasing new versions for Joomla 1.5, so you won't be getting bug fixes or security fixes. For this reason, it's recommended to migrate from 1.5.
Moving from 2.5 to any Joomla 3 version is relatively simple, since Joomla has made the process easy for newer versions. Unfortunately, moving from 1.5 is not a trivial task. Fortunately, there are two good extensions that make the process easier:jUpgrade and SPUpgrade.
You have a choice of going straight to Joomla 3.1 or going to 2.5 first. Both jUpgrade and SPUpgrade have versions ready for both versions. Please consult with their documentation on how to migrate from Joomla 1.5 to 3.1/2.5.
For most new/migrated sites, the Joomla! 3 series is the preferred series and starting on it avoids a mini-migration from Joomla 2.5 later down the road. Starting on the Joomla 3 series for a new/migrated site, also provides you with longer backward compatible support (with one-click upgrades) than starting a new site on 2.5 right now, because support for 3.x ends in 2016.
Joomla! Bug Squad
Thanks to the Joomla Bug Squad for their dedicated efforts investigating reports, fixing problems, and applying patches to Joomla. If you find a bug in Joomla, please report it on the Joomla! CMS Issue Tracker.
Active members of the Joomla Bug Squad during past 3 months include: Achal Aggarwal, Adelene Teh, Aleksander Linkov, Angelika Reisiger, Anibal Sanchez, Anja Hage, Artur Alves, Ashan Fernando, Beat , Brian Teeman, Chad Windnagle, Constantin Romankiewicz, Daniel Kanchev, David Hurley, Dennis Hermacki, Dimitar Genchev, Duong Nguyen, Edwin Cheront, Elin Waring, George Wilson, Gunjan Patel, Hans Kuijpers, Hervé Boinnard, Hugh Messenger, Janich Rasmussen, Jason Rey, Jérôme GLATIGNY, Jean-Marie Simonet, Jern Wei Tan, Jerri Christiansen, Jozsef Tamas Herczeg, Khai Vu Dinh, klas 10, landor landor, Lao Neo, Lara Petersen, Le Van Thuyet, Loc Le Minh, Lu Nguyen, Marc Antoine Thevenet, Marijke Stuivenberg, Mario Proenca, Mark Dexter, Mark Lee, Matias Aguirre, Michael Babker, Mihail Irintchev, Mike Biolsi, Mike Veeckmans, Nha Bui, Nicholas Dionysopoulos, Nick Savov, Nik Faris Akmal, Ofer Cohen, Olaf Offick, Patrick Alt, Peter Martin, Peter van Westen, Peter Wiseman, Piotr Konieczny, Radek Suski, Richard McDaniel, Rob de Cleen, Robert Deutz, Robert Gastaud, Roberto Segura, Roland Dalmulder, Ronni Christiansen, Sam Teh, Sander Potjer, Sandra Thevenet, Sebastian Łuckoś›, Sergio Iglesias, Seth Warburton, Shafiq Mazlan, Stefania Gaianigo, Thomas Hunziker, Tino Brackebusch, TJ Baker, Tobias Zulauf, tompap tompap, Troy Hall, Tu Diep The, Valentin Despa, Victor Drover, Viliam Kubis, Yiliang Yang.
Bug Squad Leadership: Mark Dexter and Nick Savov, Co-Coordinators. Super-star contributors and leaders by example: David Hurley, Jean-Marie Simonet, Brian Teeman, Elin Waring, Marc Antoine Thevenet, Michael Babker, and Roberto Segura.
Joomla! Security Strike Team
A big thanks to the Joomla! Security Strike Team for their ongoing work to keep Joomla secure. Members include: Airton Torres, Alan Langford, Beat, Bill Richardson, David Hurley, Don Gilbert, Elin Waring, Gary Brooks, Jason Kendall, Jean-Marie Simonet, Marijke Stuivenberg, Mark Boos, Mark Dexter, Matias Griese, Michael Babker, Nick Savov, Pushapraj Sharma, Rouven Weßling.
How can you help Joomla! development?
There are a variety of ways in which you can get actively involved with Joomla! It doesn't matter if you are a coder, an integrator, or merely a user of Joomla!. You can contact the Joomla! Community Development Manager, David Hurley, This email address is being protected from spambots. You need JavaScript enabled to view it., to get more information, or if you are ready you can jump right into the Joomla! Bug Squad.
The Joomla Bug Squad is one of the most active teams in the Joomla development process and is always looking for people (not just developers) that can help with sorting bug reports, coding patches and testing solutions. It's a great way for increasing your working knowledge of Joomla, and also a great way to meet new people from all around the world.
If you are interested, please read about us on the Joomla Wiki and, if you wish to join, email This email address is being protected from spambots. You need JavaScript enabled to view it., one of the This email address is being protected from spambots. You need JavaScript enabled to view it..
You can also help Joomla development by thanking those involved in the many areas of the process. The project also wants to thank all of the people who have taken the time to prepare and submit work to be included in the Joomla CMS, and to those who have worked very hard on the Joomla Framework.