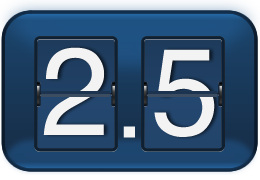 The Joomla Project is pleased to announce the immediate availability of Joomla 2.5.11. This release fixes some problems introduced in the 2.5.10 release. The Production Leadership Team's goal is to continue to provide regular, frequent updates to the Joomla community. Learn more about Joomla! development at the Developer Network.
The update process is very simple, and complete instructions are available here. Note that there are now easier and better ways of updating than copying the files with FTP.
Download
Note: Please read the update instructions before updating.
Instructions
Want to test drive Joomla? Try the online demo or the Joomla JumpBox. Documentation is available for beginners.
Please note that you should always backup your site before upgrading.
Release Notes
Check the Joomla 2.5.11 Post-Release FAQs to see if there are important items and helpful hints discovered after the release.
Statistics for the 2.5.11 release period
Tracker Issues Fixed
Joomla! Bug Squad
Thanks to the Joomla Bug Squad for their dedicated efforts investigating reports, fixing problems, and applying patches to Joomla. If you find a bug in Joomla, please report it on the Joomla! CMS Issue Tracker.
Active members of the Joomla Bug Squad during past 3 months include: Akarawuth Tamrareang, Aleksander Linkov, Alonzo Turner, Andrea Tarr, Andrew Matthew, Angelika Reisiger, Artur Alves, Arunas Mazeika, Ashan Fernando, Ashwin Date, Ben Tasker, Benjamin Trenkle, Brian Teeman, Chad Windnagle, Chris Smith, Constantin Romankiewicz, David Hurley, Dennis Hermacki, Don Gilbert, Edgars Piruška, Elijah Madden, Elin Waring, Emerson Rocha Luiz, George Wilson, Harald Leithner, Jacques Rentzke, Janich Rasmussen, Javier Gómez, Jean-Marie Simonet, Jon Neubauer, Julien Vonthron, Jurian Even, Kevin Griffiths, Khai Vu Dinh, Lu Nguyen, marco dings, Marijke Stuivenberg, Mark Dexter, Michael Babker, Mihàly Marti, Mihir Chhatre, Mike Biolsi, Nick Savov, Ofer Cohen, Parth Lawate, Patrick Alt, Peter van Westen, Piotr Konieczny, Ram Tripathi, Richard McDaniel, Robert Deutz, Robert Gastaud, Roberto Segura, Roland Dalmulder, Ruth Cheesley, sajal soni, Seth Warburton, Stefania Gaianigo, Tessa Mero, Thomas Hunziker, Thomas Jackson, Tobias Zulauf, Tom Hutchison, Valentin Despa, Yannick Gaultier.
Bug Squad Leadership: Mark Dexter and Nick Savov, Co-Coordinators. Super-star contributors and leaders by example: Jean-Marie Simonet, Elin Waring, David Hurley, and Brian Teeman.
Joomla! Security Strike Team
A big thanks to the Joomla! Security Strike Team for their ongoing work to keep Joomla secure. Members include: Airton Torres, Alan Langford, Andrea Tarr, Bill Richardson, David Hurley, Elin Waring, Gary Brooks, Jason Kendall, Jean-Marie Simonet, Marijke Stuivenberg, Mark Boos, Mark Dexter, Michael Babker, Nick Savov, Pushapraj Sharma, Rouven Weßling.