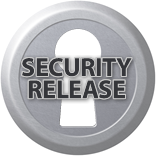 The Joomla! Project announces the immediate availability of Joomla 1.5.23 [senu takaa ama baji]. This is a security release, and we recommend users upgrade immediately.
The Development Working Group's goal is to continue to provide regular, frequent updates to the Joomla community.
Download
Instructions
Want to test drive Joomla? Try the online demo. Documentation is available for beginners.
Please note that you should always backup your site before upgrading.
Release Notes
Check the Joomla 1.5.23 Post-Release FAQs to see if there are important items and helpful hints discovered after the release.
Security
Low Priority - Core - Information Disclosure Vulnerability.
Issues Fixed
| Category | Issue Title | Link |
| --- | --- | --- |
| Administration | PHP notice when selecting a menu type | 16605 |
| Authentication & Login | Password reset invalid token | 21252 |
| Components | Article Manager - Select Author | 21676 |
| Components | Category Blog Layout - View Article - Editing Article - Click Images - 500 Layout "blog" not found | 20536 |
| Components | Articles archive years are HARDCODED!!! | 22520 |
| Components | Section blog ordering changed in 1.5.22 | 23135 |
| Components | **PDFs not showing when icon clicked in IE... | 16149 |
| Components | com_mailto Spam Email Relay | 24289 |
| Installation | *SQL installation issue with TYPE | 25162 |
| Installation | Improve .htaccess rewrite efficency | 25090 |
| JavaScript | Mootools 1.2.4 Squeezebox Problems in MSIE | 25450 |
| Joomla Libraries | Warning: realpath() [function.realpath]: Unable to access .../path.php | 20423 |
| Joomla Libraries | Joomla! broken on CGI web servers | 22629 |
| Libraries | Upgrade Geshi to 1.0.8.10 | 25024 |
| Plugins | security string missing on file toolbar.php | 20234 |
| Plugins | Add a system plugin event called onBeforeCompileHead | 23746 |
| Templates | 1.5.21 admin template params.ini error | 23053 |
Joomla! Bug Squad
Thanks to the Joomla Bug Squad for their dedicated efforts investigating reports, fixing problems, and applying patches to Joomla. If you find a bug in Joomla, please report it on the 1.5 Bug Tracker.
Active members of the Joomla Bug Squad during this last 1.5 release cycle include: Akarawuth Tamrareang, Andrea Tarr, Andrew Eddie, Bill Richardson, Dennis Hermacki, Elin Waring, Ian MacLennan, Jacob Waisner, Jan Pavelka, Jean-Marie Simonet, Mark Dexter, Matt Thomas, Michael Babker, Nicholas Dionysopoulos, Niels Braczek, Ronald Pijpers, Rouven Weßling, and Tim Plummer.

Bug Squad Leadership: Andrew Eddie, Ian MacLennan, and Mark Dexter Coordinators; Bill Richardson, Elin Waring, Marijke Stuivenberg, Matt Thomas, and Omar Ramos, Team Leaders.
Joomla! Security Strike Team
Thanks to the Joomla Security Strike Team for their dedicated efforts investigating reports, and fixing security issues in Joomla. Current active members of the Joomla! Security Strike Team are: Alan Langford, Claire Mandville, Ian MacLennan, Jason Kendall, Marijke Stuivenberg, Mark Dexter, Omar Ramos, Pierre Gazzola and Sam Moffatt.